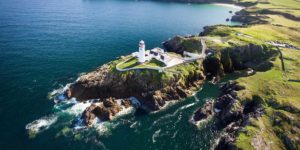 Donegal is the most north-westerly county in Ireland. Letterkenny, Buncrana and Donegal Town are the county's main towns. The Gaeltacht of Donegal is mostly located in the west of the county. The Gaeltacht includes regions such as The Rosses, Gaoth Dobhair, Gleann Cholm Cille and Fánaid.
The Donegal Gaeltacht is recognised as an area of exceptional natural beauty with a unique landscape. The county offers lots for visitors and locals to enjoy. Among the natural beauty spots of the area are the Sliabh Liag cliffs, a stunning feature of the county's south coast, and Earagail, the highest mountain in the county and one of its defining features. The Donegal Gaeltacht has many interesting heritage sites to visit including the famous Fánaid Lighthouse and the area is also known for its rich language and culture with many successful artists coming from the region. There are many opportunities for visitors and locals to get a taste of the region's music at sessions and many festivals and events are organised throughout the year to celebrate the rich cultural heritage of the area.
The Donegal Gaeltacht has a strong economy. The industries in the county include health and medical products manufacturing, engineering, food processing and of course, the textiles industry. Páirc Ghnó Ghaoth Dobhair is at the centre of enterprise activity in the Donegal Gaeltacht but Údarás na Gaeltachta also has units available throughout the county to lease to new and existing businesses. Along with more traditional spaces, Údarás na Gaeltachta is developing a network of digital hubs in Donegal (the gteic network) and these modern spaces are catering especially for new and small businesses, remote workers and entrepreneurs.
Údarás na Gaeltachta provides many supports for companies and entrepreneurs in the area and every necessary service – shops, restaurants and schools for example – is available to the community. The communities of the Donegal Gaeltacht are strong and interconnected and this region offers a laid-back, peaceful and community-centered life. Away from the pressure and competition of city living, it is a life connected with the past but also with the innovations of the present.
County Donegal has a population of 166321 (2022 Census) and the Gaeltacht areas of the county have a population of 23,346. This is equivalent to 23.4% of the entire population of the Gaeltacht
The geographical area of the Donegal Gaeltacht is 1,502km2 and this is equivalent to 26% of the total area of the Gaeltacht
The name Dún na nGall means the 'fort of the foreigner' and refers to the end of the Viking raids of the county in the 8th and 9th century. The area is also referred to as 'Tír Chonaill' and this name refers historically to the west of the county only
The primary national roads to Donegal are as follows:
• Dublin – M2/N2, M1 nó M3/N3
• Belfast – M2
• Galway – M18/N17
• Sligo – N15
• Derry – N13
Bus Éireann provides services from counties all over Ireland to Donegal. Many private companies also provide bus services to Donegal.
Further information: www.buseireann.ie
www.busfeda.ie
Letterkenny General Hospital
Third Level Education in the region
Client-companies affiliated with Údarás na Gaeltachta in Donegal
John Collins Designs

Baile na Finne,
Co Dhún na nGall


Donegal Bog Cotton

An Fál Carrach,
Co. Dhún na nGall


Údarás na Gaeltachta – Oifig Réigiúnach Dhún na nGall

Údarás na Gaeltachta,
Páirc Ghnó Ghaoth Dobhair,
Doirí Beaga,
Co. Dhún na nGall
F92 EO9T

Cácaí Aoibhín

Cois Cláidí,
Gaoth Dobhair

Céim Aniar Teo.

Áras Ros Goill ,
Na Dúnaibh,
Ros Goill,
Leitir Ceanainn,
Co Dhún na nGall
F92 RX8C


Sliabh Liag Distillers

An Charraig,
Co. Dhún na nGall

Glen River Knitwear

Bóthar Theilinn,
An Charraig Íochtarach,
Co. Dhún na nGall,
F94 W5PW.


An Gailearaí

Gaoth Dobhair,
Co. Dhún na nGall,
F92 PT38.


Comhlucht Iascaireachta Fanad Teoranta

Fánad,
Co. Dhún na nGall

Pobal Eascarrach CTR

Ionad Acmhainne Béal an Átha,
An Fálcarrach,
Co. Dhún na nGall
F92 XH70


Comharchumann na nOileán Beag Teo

Ancaire,
An Chrannóg,
Na Doirí Beaga,
Leitir Ceanainn,
Co. Dhún na nGall
F92 EYT3


An tSean Bheairic

Máire Ní Chasaide, An Fál Carrach,
Co Dhún na nGall

Dunlewey Centre — Ionad Cois Locha

Ionad Cois Locha,
Dún Lúiche,
Gaoth Dobhair,
Leitir Ceanainn,
Co. Dhún na nGall

Comharchumann Thoraí Teo

Oileán Thoraí,
Co. Dhún na nGall
F92 FD66

CDP na Rosann

Bóthar an tSeipéil,
An Chlochán Liath,
Co. Dhún na nGall
F94PX82


Lár Chomhairle Paróiste Ghleann Cholm Cille

An Mhálainn Mhóir,
Gleann Cholm Cille,
Co.Dhún na nGall
F94 TN35


Carraig na Rón

Fánaid,
Co. Dhún na nGall

Diane Ní Chanainn

Mín Lárach,
Co. Dhún na nGall


Baoilleach

Gort na mBrád,
Carraig Airt,
Co. Dhún na nGall

Nuvotem Talema

Nuvotem Talema
Aonaid W+X,
Páirc Gnó Ghaoth Dobhair,
Doirí Beaga, Co. Dhún na nGall,
Éire, F92 AT8F

Comharchumann Árainn Mhóir Teo

An Chloch Corr.
Árainn Mhór,
Co. Dhún na nGall.
F92 D286


Drioglann Croithlí

An Coillín Darach,
Croithlí,
Co. Dhún na nGall


Forbairt Eachla Teoranta CTR

Forbairt Eachla CTR
Aonad 2,
Baile na Finne,
Dún na nGall
F94 X312


Donegal Copper Craft

Mín an Chladaigh,
Gort an Choirce,
Leitir Ceanainn,
Co. Dhún na nGall


Ionad Theampall Chróine

Máire Nic an Bhaird,
Bóthar an tSéipéil,
An Clochán Leath,
Co Dhún na nGall

Innealtóireacht J.C. Teoranta

Cill Ráin,
An Clochán,
Bealach Féich,
Contae Dhún na nGall,
Ireland

Kennedy Bacon

Ionad turasóireachta Machaire Rabhartaigh,
Co. Dhún na nGall

Próiseáil  (an Clochán Liath ) Teo (Irish Fish Canners)

An Clochán Liath,
Co. Dhún na nGall

Kombucha Éireannach Teoranta (Synerchi)

Doirí Beaga,
Co. Dhún na nGall

Meadowsweet Ireland

Baile na Finne,
Co. Dhún na nGall

Promise Gluten Free

Ard an Rátha,
Co. Dhún na nGall

An Siopa Gaeilge

Gleann Cholm Cille

Irish Pressings

Aonad 19,
Páirc Gnó Ghaoth Dobhair,
Doirí Beaga,
Co. Dhún na nGall

Randox Teoranta

An Mhín Mhór,
An Clochán Liath,
Co. Dhún na nGall,
F94 TV06

Caisleán Óir Teo

Óstán Caisleáin Óir,
Slí an Atlantaigh Fhiáin,
Anagaire,
Co. Dhún na nGall

Kelsius

Aonad 2,
Eastát Tionsclaíochta Bhaile Chonaill,
An Fál Carrach,
Contae Dhún na nGall

Ionad Naomh Pádraig

Dobhair,
Bun Beag,
Leitir Ceanainn,
Dún na nGall,
Éire

Pobal le Chéile

Ionad Naomh Fionnán,
Bóthar an Stáisiúin An Fál Carrach,
Leitir Ceanainn,
Co. Dhún na nGall
F92 EV91


Áras Sheáin Bháin

Cormac Ó Colla,
Baile na Finne,
Co Dhún na nGall

Oideas Gael

Gleann Cholm Cille,
Co Dhún na nGall,
F94 R94W


Sliogéisc na Rossan Teo

Ailt an Chorráin,
Co. Dhún na nGall

Broidnéireacht Chroithlí

Croithlí,
Co. Dhún na nGall


Lárionad Acmhainní Nádúrtha Teo

Cill Ulta
An Fál Carrach,
Co. Dhún na nGall

Irish Concertina Lessons

Gaoth Dobhair,
Co. Dhún na nGall


Comharchumann Forbartha Gaoth Dobhair

Srath na Corcra,
Na Doirí Beaga,
Leitir Ceanainn,
Tír Chonaill
Co. Dhún na nGall
F92 EYT3


Bluestack Co. Ltd

An Fál Carrach,
Co. Dhún na nGall


Quality Sea Veg

Ailt an Chorráin,
Co. Dhún na nGall

Donegal Pens

Loch an Iúir,
Co. Dhún na nGall

Bellaville Farm

Caiseal,
Gort an Choirce,
Co. Dhún na nGall

Corveen Glen

An Luinnigh,
Na Doirí Beaga,
Co. Dhún na nGall

Errigal Bay

Mín an Aoire,
An Charraig,
Co. Dhún na nGall,
F94 EN83

Maria Gasol Art

Gort an Choirce,
Co. Dhún na nGall


Blas Bakery

Machaire Rabhartaigh,
Co. Dhún na nGall

Green Acre Quilts

An Fál Carrach,
Co. Dhún na nGall


The Old Sea Dog

Na Dúnaibh,
Co. Dhún na nGall
F92 APY8