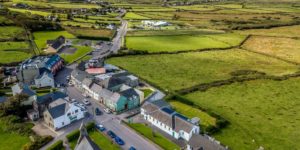 County Kerry is located in the south west of Ireland. Tralee is the county town. There are two distinct Gaeltacht regions in Kerry – the western part of the Dingle Peninsula (Corca Dhuibhne) and a part of the Uíbh Ráthach peninsula. Daingen Uí Chúis is the largest town on the Dingle peninsula and Baile an Sceilg is the largest village in the Uíbh Ráthach Gaeltacht.
County Kerry is one of Ireland's most popular tourist destinations because of its beautiful landscape and lively towns. The highest mountain in Ireland – Carrauntoohil – and the longest beach on the Wild Atlantic Way at Brandon Bay are located in county Kerry but these are just two of the many beauty spots in the area. The Corca Dhuibhne Gaeltacht is the most westerly inhabited place in mainland Europe and the Slea Head Drive in the area is renowned for its beautiful views and cultural and business points of interest. An Blascaod Mór is also situated out from the Corca Dhuibhne coast and this island is known for its rich literary and cultural history. Another famous island – Skellig Michael – is located off the coast of the Uíbh Ráthach Gaeltacht and this unique island is recognised by UNESCO as a World Heritage Site. This part of the Kerry Gaeltacht is part of the Ring of Kerry – the established driving route on the Uíbh Ráthach peninsula that includes many different natural, cultural and business points of interest. Along with the beauty of the countryside, Kerry has many lively towns and one of the most famous towns in the Gaeltacht – Daingean Uí Chúis – is located on the Dingle peninsula.
Among the industries and sectors that are based in Kerry are manufacturing, medical and health devices, engineering and food processing. The fishing sector is still strong in the county as well as the marine sector. The craft industry is also strong in Kerry and many artists are based in the county and take inspiration from the landscape around them. This Gaeltacht region depends on small and medium enterprises and Údarás na Gaeltachta along with other stakeholders is working continuously to drive enterprise in the Kerry Gaeltacht. Many innovative companies are now emerging in the area and a strong gteic – MolTeic – has been operating in Daingean Uí Chúis for some time. This network will be expanded in the future and the services and the business resources in the area are continuously growing. Excellent resources are also available in the Kerry Gaeltacht for the community of the region and many events are organised for local people and for visitors throughout the year. The people of Kerry have a strong identity, both local and county identity, but the community of the Kerry Gaeltacht is also one of great diversity and new locals are welcomed with open arms.
County Kerry, with a population of 155,258 (2022 Census) is located in the south-west of Ireland
The Kerry Gaeltacht has a population of 8,756 and this is equivalent to 8.8% of the whole population of the Gaeltacht
The Kerry Gaeltacht has an area of 642 km2. This is equivalent to 9% of the entire area of the Gaeltacht
In 2019, 695 people were employed full time in Údarás na Gaeltachta client companies in the Kerry Gaeltacht
The national primary roads to Kerry are:
The N21 from Limerick
The N22 from Cork
Medical services in County Kerry
Tralee General Hospital
Bon Secours Hospital
Daingeán Uí Chúis Community Hospital
Naomh Áine Hospital
Dairbhre Community Hospital
Every leisure facility and activity that could be desired is available in County Kerry. For more information visit:
Client-companies affiliated with Údarás na Gaeltachta in Kerry
Drioglann Uisce Beatha Dhaingean Uí Chúis Teo. (Dingle Distillery)

Baile an Mhuilinn,
Daingean Uí Chúis,
Co. Chiarraí

Músaem Chorca Dhuibhne

Baile an Fheirtéaraigh,
Trá Lí,
Co. Chiarraí

KellyMarie McElligott Jewellery

Sráid an Dóirín,
Daingean Uí Chúis,
Co. Chiarraí

Dingle Goldsmiths A.J. Bácaéir Teoranta Gabhne Óir Chorca Dhuibhne

Sráid na Trá,
Daingean Uí Chúis,
Co. Chiarraí

Susan Callery

Ionad na bPoll,
Daingean Uí Chúis,
Co. Chiarraí

Dingle Pottery

Sráid an Dóirín,
Daingean Uí Chúis,
Co. Chiarraí

The Skellig Jam Co

Tig an Rince,
Baile an Sceilg,
Co. Chiarraí

Dick Mack's Brew House Limited

Sráid an Dóirín,
Daingean Uí Chúis,
Co. Chiarraí

The Coach House

Bóthar an Phoist,
Daingean Uí Chúis,
Co. Chiarraí,
Éire Co. Chiarraí

Dingle Sushi

Aonad 1 Páirc Ghnó na Coille,
Daingean Uí Chúis,
Co. Chiarraí

Fenton Hospitality- James Longs Restaurant

Sráid na Trá,
Daingean Uí Chúis,
Co. Chiarraí

Smugglers Inn

An Coireán,
Co. Chiarraí

Bádóirí an Bhlascaoid Teo

Coimín Bhaile Ícín,
Dún Chaoin,
Co. Chiarraí

De Brún Iasc Teo.

Baile na Buaile,
Daingean Uí Chúis,
Co. Chiarraí

Scoil Chócaireachta An Daingin / Dingle Cookery School

Aonad 9/10 An Ceardlann,
An Choill,
Daingean Uí Chúis,
Co. Chiarraí

Louis Mulcahy Pottery Potadóireacht na Caolóige

An Clochar,
Baile an Fheirtéaraigh,
Daingean Uí Chúis,
Co. Chiarraí,
V92 NV04.


Sinead Lough Pottery

An Gort Mór,
Baile an Fheirteirigh,
Co. Chiarraí,
V92 RK02

Ó Cathain Iasc Teo.

An Choill,
Daingean Uí Chúis,
Co. Chiarraí

Airmid Natural Hand Crafted Soaps

Ionad na Dromoda,
Cíllin Liath,
Máistir Gaoithe,
Co. Chiarraí,
V23RK10

Dingle Candle

Bóthar an Spá,
Daingean Uí Chúis,
Co. Chiarraí

Dingle Crystal

Sráid an Dóirín,
Daingean Uí Chúis,
Co. Chiarraí

Dingle Farmhouse Products Ltd

Baileghainin Beag,
Baile na nGall,
Trá Lí,
Co. Chiarraí

Bean In Dingle Roastery

Sráid an Dóirín,
Daingean Uí Chúis,
Co. Chiarraí

Dingle Bikes

Daingean Uí Chúis,
Co. Chiarraí

Ó Curnáin Bakery

Sráid an Dóirín,
Daingean Uí Chúis,
Co. Chiarraí

Dingle Linens

An Choill,
Daingean Uí Chúis,
Co. Chiarraí

McGills Brewery

An Mhuiríoch,
An Coireán,
Co. Chiarraí

Mara Beo (Dingle Oceanworld Aquarium)

Fearann na Cille,
Daingean Uí Chúis,
Co. Chiarraí

Galf Chumann Cheann Sibéal

An Baile Uachtarach Theas,
Baile an Fheirtéaraigh,
Co. Chiarraí,
V92 CA44.

NU Goldsmith

Sráid an Dóirín Uachtarach,
Daingean Uí Chúis,
Co. Chiarraí

Beoir Chorca Dhuibhne

An Riasc,
Baile an Fheirtéaraigh,
Co. Chiarraí

Bácús Bhréanainn

Sráid an Doirín,
Daingean Uí Chúis,
Co. Chiarraí

John Weldon

Sráid an Dóirín,
Daingean Uí Chúis,
Co. Chiarraí

Natures Knowledge

Príomhshráid,
Daingean Uí Chúis,
Co. Chiarraí

Dingle Hospitality Ltd

Daingean Uí Chúis,
Co. Chiarraí

Milseoige (Dingle Chocolates)

Daingean Uí Chúis,
Co. Chiarraí

Murphy's Ice Cream

Sráid an Dóirín,
Daingean Uí Chúis,
Co. Chiarraí

Moldog Ltd

Sráid na Trá,
Daingean Uí Chúis,
Co. Chiarraí

The Little Cheese Shop

Lána an Ghrae,
Daingean Uí Chúis,
Co. Chiarraí

Galfchúrsa an Choireáin

An Mhuiríoch,
Co. Chiarraí

Ionad Ealaíne Chill Rialaig

Dún Géagáin,
Baile an Sceilg,
Co. Chiarraí

Micilín Muc

Aonad 7/8 An Ceardlann,
An Choill,
Daingean Uí Chúis,
Co. Chiarraí

My Boy Blue

Ionad na bPoll,
Daingean Uí Chúis,
Co. Chiarraí

Brian de Staic

An Choill,
Daingean Uí Chúis,
Co. Chiarraí.
V92TE81

It must be Dingle

Gort a Dubha,
Baile an Fheirtéaraigh,
Co. Chiarraí

Seacláidí na Sceilge Teoranta (Skelligs Chocolate)

An Gleann,
Bá Fhíonáin,
Baile an Sceilg,
Co. Chiarraí.

Holden Leathergoods

Baile an Ghóilín,
Daingean Uí Chúis,
Co. Chiarraí,
V92 X757,
Éire

Skellig Pottery

Cealla Cnoc,
Sosadh,
Cathair Saidhbhín,
Co. Chiarraí

The Fish Box Restaurant Ltd.

Sráid an Dóirín,
Daingean Uí Chúis,
Co. Chiarraí