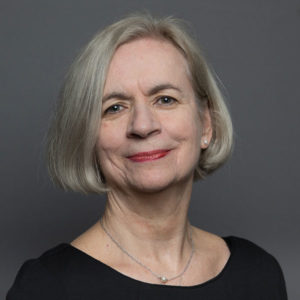 Anna Ní Ghallachair was appointed Chairperson to the Board of Údarás na Gaeltachta in 2018 by the Minister of State for the Irish Language, the Gaeltacht and the Islands at the Department of Culture, Heritage and the Gaeltacht for a five-year term from 16 January 2018 to 15 January 2023. This is her second term as Chairperson of the Board of Údarás na Gaeltachta. She previously served as Chair from 20 November 2012 to 19 November 2017.
Anna Ní Ghallachair is from Árainn Mhór in Co. Donegal. After ten years as a lecturer of French, German, and Irish in Letterkenny Institute of Technology and over 20 years as Director of the Language Centre in Maynooth University, she is now Director of the Centre for Irish Language Research, Teaching and Testing and Head of the School of Celtic Studies in the same institute.
Anna has studied modern languages in Ireland and in France, where she spent six years as a lecturer and studying postgraduate programmes in French. Her research focused on multilingualism, teaching and learning Irish and the literature of Brittany.
She was a member of Coimisiún na Gaeltachta (2000-2002), a member of the working group for the language policy in the Department of Education and Skills (2008-9), a former chairperson of the Irish Association for Applied Linguistics (2004-2007), Raidió na Gaeltachta (2010-2013) and Údarás na Gaeltachta (2012-2017). She has also served on a number of committees in Ireland and abroad focusing on the teaching and promotion of languages.
In 2008 she was honoured by the French Government in recognition of her services to plurilingualism.
Currently, she is a member of the executive committee of the Association of Language Testers in Europe (ALTE), of the Royal Irish Academy's Languages, Literature, Culture and Communication Committee, and of a European Commission committee dealing with Multilingualism.
As outlined in paragraph 12 of the First Schedule of the Údarás na Gaeltachta Act, 1979, Údarás board members are paid fees and allowances from Údarás funds, which are determined from time to time by the Minister for Culture, Heritage and the Gaeltacht with the consent of the Minister for Public Expenditure and Reform. These fees and rates are in accordance with those laid down by the Department of Public Expenditure and Reform for State Bodies of Category C of that Department.
As directed by the Department of Public Expenditure and Reform (2011) regarding the payment of fees to public servants who sit on state boards, this member of the Údarás Board is not paid an annual fee.