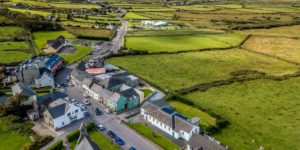 There are in excess of 30 Irish language services centres in the Gaeltacht which receive support from Údarás na Gaeltachta.
The centres provide Irish learning materials for adults wishing to learn the language, or obtain the 'blas', or improve their Irish.
The accredited and internationally recognised standard, European Certificate in Irish, from the National University of Ireland, Maynooth, is available in these centres. These are the only accredited certificate courses available to people learning Irish and are graded to suit all abilities.
Contact details for the Language Services Centres located throughout the Gaeltacht may be found on the map or are available for download below…
Comhlacht Forbartha na nDéise C.T.R.

Ionad Pobail na Rinne
An Rinn,
Dún Garbhán,
Co. Phort Láirge.
X35 XW29


Áras Sheáin Bháin

Cormac Ó Colla,
Baile na Finne,
Co Dhún na nGall

Comhchoiste Ghaeltacht Uíbh Ráthaigh

Ceann Eich,
Cathair Saidhbhín,
Co. Chiarraí.
V23 R894


Comharchumann Chléire Teo.

Oileán Chléire,
An Sciobairín,
Co. Chorcaí.
P81 DX54


Comharchumann Forbartha Mhúscraí Teo.

Gteic@Béal Átha an Ghaorthaidh
Páirc Ghnó Bhéal Átha an Ghaorthaidh
Maighchromtha
Co. Chorcaí
P12PX22


Ionad Theampall Chróine

Máire Nic an Bhaird,
Bóthar an tSéipéil,
An Clochán Leath,
Co Dhún na nGall

Céim Aniar Teo.

Áras Ros Goill ,
Na Dúnaibh,
Ros Goill,
Leitir Ceanainn,
Co Dhún na nGall
F92 RX8C


An tSean Bheairic

Máire Ní Chasaide, An Fál Carrach,
Co Dhún na nGall

An Siopa Gaeilge

Gleann Cholm Cille