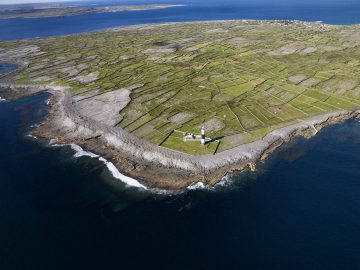 County Galway, the second largest county in Ireland, is located on the west coast of Ireland. The Galway Gaeltacht covers large parts of the county from the east of Galway city and its suburbs to the western end of the county. The majority of the Galway Gaeltacht is in the west of the county and and many different regions of the county are included in it – Cois Fharraige, Iorras Aithneach and Joyce Country for example.
Galway city and county are known all over the world as regions of enterprise and development opportunity and rich culture. Much of the Galway Gaeltacht is located in the Conamara region and Conamara is well known as a region that has ties to places all over the world but also has its own distinct culture. Some of the Galway Gaeltacht's most prominent attractions – Ionad Cuimhneacháin na nImirceach in Carna, Ionad Oidhreachta Leitir Mealláin and the Joyce Country Geopark project – demonstrate the rich heritage but also innovation that can be found in the area.
One of the most captivating places in the Galway Gaeltacht is the Aran Islands and these islands provide an insight into the unique quality of the Gaeltacht islands and the people that live and lived off the coast of Ireland. Thousands of visitors come to the Gaeltacht islands of Galway every year and this is only one example of the type of unique experience that is available to the visitor to the Gaeltacht.
As well as rural Gaeltacht areas, part of the lively heritage city of Galway is in the Gaeltacht. Galway is well known for its cultural events and festivals that take place throughout the year and Galway city is an epicentre of Irish culture in Ireland and globally.
County Galway has a strong local economy and a wide range of businesses and industries operate in the county including the manufacturing and tourism industries, retail and distribution, education and services including financial services, construction, cultural services and professional services. The biomedical industry is particularly strong in Galway and some of the largest biomedical companies in Ireland are located here. The National University of Ireland, Galway, is the most important educational and research resource in the west and the research institutes of the university have a strong connection to the industries all over the county.
The gteic network, the digital network of the Gaeltacht, is functioning strongly already in the Galway Gaeltacht and further development of this network in the county will continue to take place. The Galway Gaeltacht offers everything to the entrepreneur – business resources and supports, enterprise spaces at competitive prices and a highly educated workforce as well as one of the most lively cities in Europe on its doorstep. The community of the Galway Gaeltacht have the best of both worlds – a lively community and a low cost of living but also access to every necessary resource and service.
The Galway Gaeltacht has a population of 258,058 (2016 Census) and 50,570 of this population live in the Gaeltacht areas
The Gaeltacht of Galway covers vast areas of the county and the Galway Gaeltacht is the largest Gaeltacht area, and largest by population, in the country
The population of the Galway Gaeltacht is equivalent to 50.8% of the population of the Gaeltacht as a whole and 15,300 of this population live within the suburbs of Galway city
The Galway Gaeltacht has a geographical area of 1,225 km2. This is equivalent to 26% of the area of the Gaeltacht
An Spidéal and An Cheathrú Rua are the largest centres of population in the Galway Gaeltacht. An Cheathrú Rua is located 48km west of Galway city and an Spidéal is 19km west
Three main roads service Galway city
M17/N17 to the north (Tuam, Sligo and Donegal)
N6/M6/M4 to the east (Athlone and Dublin)
M18/N18 to the south (Shannon, Limerick and Cork)
Air services in the region:
Train Services
Iarnród Éireann provides regular return services between Dublin and Galway and Limerick and Galway, and stations in between
Further information: www.irishrail.ie
Bus Services
Bus Éireann, the national bus operator of Irealnd, as well as many private operators, provide services to Galway from other large towns in Ireland
Further information: www.buseireann.ie
Medical Services in County Galway
University College Hospital
Merlin Park Regional Hospital
Bon Secours Hospital
Galway Clinic
Third Level Education in the region
Client-companies affiliated with Údarás na Gaeltachta in Galway
Comhairle Ceantar na nOileán Teo.

Tír an Fhia,
Leitir Móir,
Co. na Gaillimhe
H91 W529

Teach na Gaeilge

Maigh Cuilinn,
Co. na Gailimhe

Proxy Biomedical Ltd

Proxy Biomedical Ltd.
Coilleach, An Spidéal, H91 C2NF
Co. na Gaillimhe

Comhlacht Forbartha Inis Meáin Teo.

Carcair na leacht,
Inis Meáin,
Oileáin Árann,
Co. na Gaillimhe
H91 XK40


All About Kombucha

Maigh Cuilinn,
Co. na Gaillimhe

Saotharlann Chonamara Teo Complete Laboratory Solutions

Saotharlann Chonamara Teo
Ros Muc,
Co. na Gaillimhe,
Éire.
H91 YK81

NLM Teo

An Carn Mór,
Co. na Gaillimhe

Údarás na Gaeltachta

Údarás na Gaeltachta,
Na Forbacha,
Co. na Gaillimhe,
H91 TY22

Bláth na Mara

Eoghanacht,
Inis Mór,
Árainn,
Co. na Gaillimhe

Comhar Caomhán Teo

Inis Oírr,
Árainn,
Cuan na Gaillimhe
H91 D27X

Bia Mara Ó Flatharta Teo

Teach an Údaráis,
Carna,
Co. na Gaillimhe

Fiona Concannon Artist

An Spidéal,
Co. na Gaillimhe

Aer Árann Teo

Indreabhán ,
Co. na Gaillimhe

Ciaran Hogan Baskets

An Spidéal,
Co. na Gaillimhe

Sliding Rock Ceramics

An Spidéal,
Co. na Gaillimhe

Inis Meáin Suites

Inis Meáín ,
Co. na Gaillimhe

Builín Blasta Teoranta

Aonad 16,
Ceardlann an Spidéil,
An Spidéal,
Co. na Gaillimhe

Seirbhísí Ríomhaire Bearna Teoranta

Aonad 1,
Tí Phuirséil,
An Chéibh,
Bearna,
Co. na Gaillimhe.


Forbairt Pobal Mhaigh Cuilinn

Áras Uilinn
Maigh Cuilinn
Co. na Gaillimhe
H91 DHW0

Leabhar Breac

Indreabhán ,
Co. na Gaillimhe

Lynsey de Búrca

Maigh Cuilinn,
Co. na Gaillimhe

Traidphicnic

An Spidéal
Contae na Gaillimhe
Éire H91XPA8

Mungo Murphy

Baile an tSléibh,
Eastát Tionscail Baile na hAbhann,
Co. na Gaillimhe

Comhar Naíonraí na Gaeltachta

Aonad 3B, Páirc Gnó na Ceathrún Rua,
An Cheathrú Rua
Co. na Gaillimhe.

Glass Craft Design Studio

An Spidéal,
Co. na Gaillimhe

ICL Charna

Ionad Cúram Leanaí Charna,
Carna,
Co. na Gaillimhe

Comharchumann Inis Mór

Inis Mór,
Árainn,
Cuan na Gaillimhe

Cáis Gabhar Árann

Inis Mór,
Oileáin Árainn,
Co. na Gaillimhe

Gearóidín Ní Ruairc

An Spidéal,
Co. na Gaillimhe

Comharchumann Mhic Dara

An Crompán,
An Cheathrú Rua,
Co. na Gaillimhe
H91 X4WH


Comharchumann Shailearna Teo.

Na hAille, Indreabhán
Co.na Gaillimhe
H91 W925


Rustech Wood

Baile Chláir,
Co. na Gaillimhe

Telegael

Áras Telegael,
An Spidéal,
Galway

Ionad Cultúrtha an Phiarsaigh

Ionad Cultúrtha an Phiarsaigh,
Conamara
Ros Muc,
Co. na Gaillimhe / Co. Galway
Éire

Forbairt Chonamara Láir Teo.

Forbairt Chonamara Láir Teo.,
Teach an Údaráis,
Carna,
Conamara,
Co. na Gaillimhe
H91 XNF2

Comharchumann Dhúiche Sheoigheach Teo.

Corr na Móna
Co.na Gaillimhe
F12 PT02


Fíbín

Fibín Teo,
An Tulaigh,
Baile na hAbhann,
Co. na Gaillimhe

Mint Tek Ciorcaid Teoranta

Na Forbacha,
Co. na Gaillimhe,
Éire.

Cambus Medical

Cambus Medical,
Baile an tSagairt,
Eastát Tionsclaíochta an Spidéil,
An Spidéal, Co. na Gaillimhe
Éire H91 TRF6

Man of Aran Fudge

Inis Mór ,
Co. na Gaillimhe

Connemara Organic Seaweed Company

Aonad 3,
Ros an Mhíl,
Co. na Gaillimhe

Comharchumann Sliogeisc Chonamara Teo

gteic,
Carna
Co. na Gaillimhe
H91 VAF8

Cló Iar Chonnacht

Cló Iar-Chonnacht Teo,
An Cheardlann,
An Spidéal,
Contae na Gaillimhe

Calendar Coffee

Bearna,
Co. na Gaillimhe,
Co. na Gaillimhe

Comhar Chuigéil Teo

Comhar Chuigéal,
Leitir Mealláin,
Contae na Gaillimhe,
H91 CH7X


Tigh Standún

An Spidéal,
Co. na Gaillimhe

Aran Island Sweaters

Inis Mór,
Árainn,
Co. na Gaillimhe

Swair-Designs

Co. na Gaillimhe

North and West Golf Links

Maigh Cuilinn,
Co. na Gaillimhe

Connemara Brewing Company

Eastát Tionsclaíochta,
An Cheathru Rua,
Co. na Gaillimhe

Criostal Ceilteach Chonamara

Maigh Cuilinn,
Co. na Gaillimhe

Cloon Keen Atelier Ltd

21A An tSráid Ard,
Co na Gaillimhe.

White Gables

Maigh Cuilinn,
Co. na Gaillimhe

Ionad Cuimhneacháin na nImirceach Teo

Carna,
Co. na Gaillimhe

Spórtlann Naomh Anna

Leitir Móir,
Co. na Gaillimhe

Seaspray

Tír an Fhia,
Leitir Móir,
Co. na Gaillimhe

West Ireland Art

An Spidéal,
Co. na Gaillimhe

Spraoi Mara

An Cheathrú Rua,
Co. na Gaillimhe,
Eire.

Údarás na Gaeltachta – Oifig Réigiúnach an Iarthair

Na Forbacha,
Co. na Gaillimhe,
H91 TY22

Muintearas

Tír an Fhia,
Leitir Móir,
Co na Gaillimhe

Aran Biomedical

Aran Biomedical
Coilleach, An Spidéal, H91 C2NF
Co. na Gaillimhe

Europus

An Cheathrú Rua,
Co. na Gaillimhe

ÉireComposites

ÉireComposites Teo,
An Choill Rua,
Indreabhán,
Co. na Gaillimhe,
Éire,
H91Y923

Comharchumann Forbartha Árann Teo

Ionad Fiontair Cholm Ó hIarnáin,
Cill Rónáin,
Inis Mór,
Oileáin Árann,
Co. na Gaillimhe.
H91 VY7D


Celtic Coin Jewellery

An Spidéal,
Co. na Gaillimhe

Páirc Saoire an Spidéil

An Spidéal,
Co. na Gaillimhe