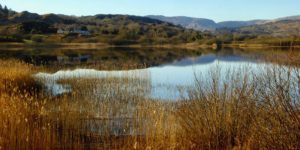 County Cork is Ireland's largest county and is located in the south west of the country. The majority of the Cork Gaeltacht is located in Múscraí which is north of Cork city. The Gaeltacht of Oileán Chléire is located off the west coast of County Cork.
County Cork is a large and varied county. From the lively city of Cork to market towns like Clonakilty to the decluded Béarra peninsula to coastal towns like Youghal, this county has every kind of region and every type activity available within them. There are two distinct areas within the Cork Gaeltacht – Múscraí and Oileán Chléire. Múscraí is located at the border with County Kerry in the west of the county and this area is famous for its rich history. There are many interesting sites to visit around Baile Bhuirne and in Macroom, which is just next to the Gaeltacht area, and this area is also known for its strong cultural traditions, especially for its music. Oileán Chléire is located off the south west coast of the county and less than 200 people live on it. This means that it is an exceptionally peaceful and beautiful place and the island is well loved for its walks and for the other adventure activities available on it.
Cork has a strong economy with a large amount of direct investment in dynamic industries like information technology, media and pharmaceuticals. The Múscraí Gaeltacht has substantial business resources and spaces, between manufacturing spaces and smaller spaces, and Cork city and its resources and services are less than one hour from the region. The main road from Cork to Killarney and Tralee goes through Múscraí and there is good access to the region due to this from other places. Údarás na Gaeltachta has invested continually in the region and as a result of this work, it is planned to develop a Regional Development Hub on the site of Coláiste Íosagán in Baile Bhuirne. Business, technological, enterprise and training supports will be available in this facility when it is opened and this project represents the type of opportunities that are available in Ireland's Gaeltacht. Business facilities are also being developed on Oileán Chléire and there are plans to open a gteic on the island.
The population of Cork is continually growing and every resource is available to the community. Much of the Cork Gaeltacht is a rural, and Oilean Chléire is separated from the mainland, but nevertheless, every modern resource is available to residents as well as access to a large city.
The population of County Cork is 581,231 (2022 Census)
The population of the Cork Gaeltacht is 3,932 and this is equivalent to 4% of the Gaeltacht population
The largest areas of population within the Cork Gaeltacht are Baile Mhic Íre/Baile Bhuirne and Béal Átha an Ghaorthaidh
The Cork Gaeltacht has an area of 262 km2. This is equivalent to 6% of the entire area of the Gaeltacht
In 2019, 699 people were employed full time in Údarás na Gaeltachta client companies in the Múscraí Gaeltacht
Cork City is linked to other cities and major access points by an excellent Primary Road network.
N71 South from Cork City (Island of Cape Clear)
N22 West – main Cork to Killarney road (Muskerry)
Cork Airport
Cork airport operated internal flights and international flights to destinations all over Europe
corkairport.com
Kerry Airport
Flights to Dublin airport and other places in Europe are operated from Kerry airport
kerryairport.ie
Shannon Airport
Transatlantic flights and flights to Europe are available from Shannon Airport
shannonairport.com
Bus, Rail and Ferry Services
Regular bus services operate in Múscraí and rail services also serve County Cork. There is a daily ferry service to and from Oileán Chléire.
Medical Services in County Cork
Bon Secours Hospital
Mercy University Hospital
Victoria University Hospital
Cork University Hospital
Third Level Education in the region
Every kind of leisure facility and activity is available in County Cork. For further information visit:
Client-companies affiliated with Údarás na Gaeltachta in Cork
Comharchumann Forbartha Mhúscraí Teo.

Gteic@Béal Átha an Ghaorthaidh
Páirc Ghnó Bhéal Átha an Ghaorthaidh
Maighchromtha
Co. Chorcaí
P12PX22


Údarás na Gaeltachta – Fo-Oifig Chorcaí

Údarás na Gaeltachta,
Páirc Ghnó Bhaile Mhic Íre,
Baile Mhic Íre,
Maigh Chromtha,
Co. Chorcaí

Folláin

Aonad 15 Eastát Gnó Bhaile Bhuirne,
Baile Bhuirne,
Co. Chorcaí,
P12 H635.


A Ó Loingsigh (Baile Mhic Íre) Teo

Baile Mhic Íre,
Co. Chorcaí

Mara Chléire Teo

Oileán Chléire,
Corcaigh

Cáis Cúil Aodha Teo.

Cúil Aodha,
Co. Chorcaí

Firebird Heating Solutions

Firebird Heating Solutions Ltd.,
Ionad Tionsclaíochta an Údaráis,
Baile Mhic Íre,
Co. Chorcaí,
P12 HK51,
Éire.

Lee Valley Taste Trails

Head Office Location

Drom an Ailigh,
Béal Átha an Ghaorthaidh,
Maigh Chromtha,
Éire
Eircode P12XH70

Drioglann Chléire Teoranta

Cnocán na mBáirneach,
Cléire,
Co. Chorcaí

Select Ireland

Eastát Tionsclaíochta an Údaráis,
Baile Bhuirne,
Maigh Chromtha,
Corcaigh
Éire,
P12 R593

Arán na hÉireann Teo

Maigh Chromtha,
Co. Chorcaí

Macroom Buffalo Mozzarella — Táirgí Cáise Buabhall Mhaigh Chromtha

Cluain Clod,
Cill na Martra,
Maigh Chromtha,
Co. Chorcaí
P12 EV90

Comharchumann Chléire Teo.

Oileán Chléire,
An Sciobairín,
Co. Chorcaí.
P81 DX54


Adhmad Cill na Martra Teo.

Cill na Martra,
Co. Chorcaí

Bia Ganbreise Teo

Béal Átha an Ghaorthaidh,
Co. Chorcaí,
P12 T271.

9 White Deer Brewery

Baile Mhic Íre,
Co. Chorcaí,
P12 E277.


Adhmad Cill na Martra Teoranta

Adhmaid Cill na Martra Teo.

Cill na Martra, Maigh Chromtha, Co. Chorcaí.

Putóg Teo.

Aonad 4,
Eastát Gnó Bhaile Bhuirne,
Baile Bhuirne,
Co. Chorcaí

Tinteáin Mhúscraí

Eastát Gnó Bhaile Bhuirne,
Baile Bhuirne,
Co. Chorcaí,
P12 TX62.

Toy Soldier Factory

Cill na Martra,
Co. Chorcaí