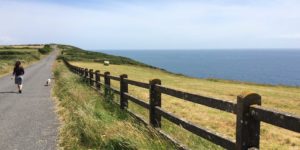 County Waterford is located on the south coast of Ireland. The Waterford Gaeltacht is situated six miles west of Dungarvan. This is a small Gaeltacht area that includes the areas of Rinn Ua gCuanach and an tSean Phobal.
Waterford is a county of great variety that sits between the east and the west of the country on the south coast. From the city in the east of the county to the mountains in the north and the coast in the south, every kind of landscape exists in this county. The Waterford Gaeltacht is in the coastal region and is situated in the south west part of the county. This is an area of exceptional beauty where many types of activities are available including coastal walks, cycling, watersports and more. A particular destination in the region is Ceann Heilbhic and there are beautiful views from this coastal spot as well as natural richness, especially in terms of bird species. Like the other Gaeltacht areas, the Waterford Gaeltacht is also culturally rich, and the local Irish language dialect is strong despite this being a Gaeltacht with a small population.
There are many things for the visitor to this area to do between activities and cultural experiences and there is easy access to the towns and cities of the region. Dungarvan is a town of rich history that is situated next to the Waterford Gaeltacht and there is a greenway all the way from Dungarvan to Waterford city which is a fantastic resource for cyclists and walkers looking to enjoy the area. Waterford city is particularly well known as a Viking city and as a craft city – the crystal of the city is recognised all over the world for example. West of the Waterford Gaeltacht, about an hour from the area, is Cork city, and many resources, services and sites are available in that city for those in enterprise, for visitors and for the community of the region.
Waterford is a fantastic location for business and this is represented by the variety of national and international high profile businesses in the county. A wide range of industries including retail, health, biopharmaceuticals and pharmaceuticals, community services and tourism are based in the county. For the last several years, companies in the multimedia industry have emerged in the Waterford Gaeltacht and this is as a result of the enterprise spirit and highly educated workforce in the area. The Waterford Gaeltacht has a great geographical location on the south coast between two cities – Waterford and Cork. A peaceful but connected life is available in the area and a community that is rich in language and culture.
County Waterford is located on the south coast of Ireland. It has a population of 127,085 (2022 Census)
The population of the Waterford Gaeltacht is 1,816 and this is equivalent to 1.8% of the entire population of the Gaeltacht
The area of the Waterford Gaeltacht is 62km2 and this is equivalent to 1% of the entire area of the Gaeltacht
In 2019, 149 people were employed full time in client companies of Údarás na Gaeltachta in the Waterford Gaeltacht
There is a good network of roads in Waterford, including:
The M9/N7 to Dublin, Carlow and Kilkenny
The N25 to Cork, Wexford and Rosslare
The N24 to Limerick and Shannon
Cork Airport
Cork Airport operates internal and international flights to Europe
Further information:
corkairport.com
Local and national bus services are available throughout the county
Further Information: buseireann.ie
Seirbhísí Leighis sa réigiún
University Hospital, Waterford
Cork University Hospital
Bon Secours Hospital

Mercy University Hospital
Third Level Education in the region
Leisure Facilities and Activities
Údarás affiliated businesses in Waterford
Harty Oysters

Gortnadiha,
An Rinn,
Dún Garbhán,
Co. Phort Láirge

Comhlacht Forbartha na nDéise C.T.R.

Ionad Pobail na Rinne
An Rinn,
Dún Garbhán,
Co. Phort Láirge.
X35 XW29


Deep Sleep

An Rinn,
Dún Garbhán,
Co. Phort Láirge

Criostal na Rinne

Baile na nGall Beag,
Dún Garbhán,
Co. Phort Láirge,
X35 NH28.


Fónta Teo

Baile an Aicéadaigh
An Seanphobal
Dún Garbhán
Co. Phort Láirge

Meitheal Trá na Rinne Teo

Móta,
An Rinn,
Dún Garbhán,
Co. Phort Láirge


Nemeton TV

Nemeton TV
An Rinn
Dún Garbhán
Co. Phort Láirge
X35 XD88
Éire

Bróga Dearga Teoranta

Baile na nGall Mór
An Rinn,
Dun Garbhán, Co. Waterford