Who says Donegal is remote?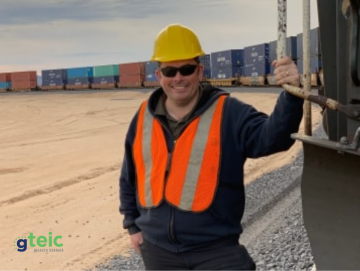 Hundreds of containers arriving daily to destinations such as Tokyo, Shanghai, Abu Dhabi, Taiwan and the United States is being controlled from the gteic digital hub in Gaoth Dobhair. Cork native Padraig Lawlor had worked all over Ireland and in the Middle East and America in various roles before settling down in Na Rosa with his wife Martina and their three young daughters. His consultancy company provides a wide variety of services from project management, procurement, finance to operational management and logistics.
Initially, he started working in the hot desks in the gteic innovation and digital hub before transitioning to an office provided by Údarás na Gaeltachta. "I have international clients from the US, Asia and the Middle East. With the building here being 24/7 it allows me to service all time zones where our clients are based," Mr Lawlor said.
Last year, his company moved more than 20,000 containers via trucks, trains and international shipping to locations all over the globe. "There's still a perception out there that we are remote in Donegal but we're now connected to the rest of the world at broadband speeds which are among the best in the world," he said.
The decision to return home, and to Donegal, was based on a number of factors. "We were very keen that our family should learn Irish while they were growing up and with our local national school in Keadue having just changed to teaching the curriculum through Gaelic it was great timing for us as Aoibheann, my eldest, was just the age to start in school.  We also wanted them to grow up in rural Ireland and play hurling, camogie, football etc. We are very lucky that in the Rosses and Gaoth Dobhair area there are clubs for all sports you can imagine plus, with Martina's family being originally from the area, it made complete sense to move here," he explained.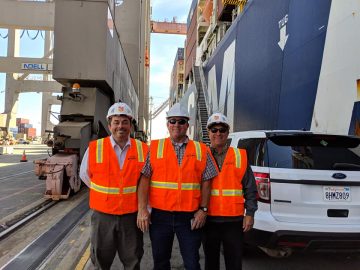 Before the pandemic, Mr Lawlor would have made frequent journeys to the Middle East and other trips to the USA. "Having the airport in Carraig Fhinn makes my life a lot easier and allows me to connect to the Middle East and the US easily through Dublin airport. Overall, the area ticks all the boxes for us from a personal and professional level," he said.  From gteic, Mr Lawlor's company provide logistic services mostly to the agricultural, fast moving consumer goods and construction services, with containers arriving daily to destinations across the world.
Due to the pandemic the industry is currently in a difficult situation requiring almost 24/7 monitoring of containers and bookings but he remains hopeful this will improve as the year goes along. Work with Asia starts around 8am then the US comes into the office on the east coast around midday. "Ireland's time zone is ideal for interacting east and west with international businesses. The availability of broadband is the key facilitator to allowing working from the region. Without it there would be no chance of being able to make this work.  The internet has made the world a small place but also has opened up a lot of opportunities that would never have been available previously," he said.
Being based in the gteic building also allows him to network with the other companies in the building and in Donegal which has led to other opportunities for his consultancy business. Mr Lawlor worked as engineer with IBM for a number of years before transitioning to accountancy which enabled him to work across multiple industries and continents around the world.
He went to Riyadh, Saudi Arabia working for a company called Almarai and then went to the US as an Assistant General Manager of a company who were setting up building manufacturing facilities. "When I went to the Middle East my first financial controller job was to manage the transport, warehousing and workshop division. At the time we had close to 1,300 trucks and the company kept growing. I think this is where I began to understand and enjoy logistics. I moved from there to a corporate group financial planning job in Riyadh and then to the US where I became the commercial director transitioning to a more operational role. It's here that I really began to get involved in logistics, trucks, trains, international shipping and really what I do today started there," he said.
Padraig Lawlor runs GRA Consulting from gteic@Gaoth Dobhair which is located on the Údarás na Gaeltachta business park, Páirc Ghnó Ghaoth Dobhair, in the Donegal Gaeltacht in the northwest of Ireland. It is a state-of-the-art innovation & digital hub where the unique Gaeltacht culture drives creativity and innovation. gteic@Gaoth Dobhair is part of the gteic Gréasán Digiteach na Gaeltachta (Gaeltacht Digital Network) and a growing digital ecosystem which will see hubs in 31 Gaeltacht locations countrywide when complete.
*The text of this interview is published courtesy of Harry Walsh, Donegal Democrat