Údarás na Gaeltachta welcomes funding for Donegal Airport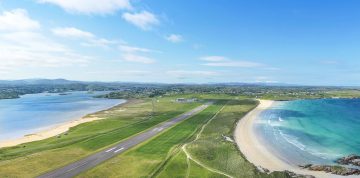 Údarás na Gaeltachta welcomes the €600,000 in funding announced by Minister of State at the Department of Transport, Hildegarde Naughton T.D for Donegal Airport as part of a support package of €108m approved for Irish airports.
This funding is being administered under the Regional Airports Programme 2021-2025, the COVID-19 Regional State Airports Programme 2021, as well as the Covid-19 Supplementary Supports Scheme for Irish Airports recently approved by the European Commission.
The funding will assist with vital safety and security operations at the airport such as air traffic control, fire services and security, ensuring that the airport can continue to remain compliant with regulatory requirements in these areas. Donegal Airport at Carraig Fhinn provides excellent services for the Donegal Gaeltacht which enable business and service development throughout the area.  The funding w airport will be supported as it recovers from the pandemic and looks towards 2020 by supporting strategic connectivity and enhancing long haul routes.
The regional airports in Donegal, Mayo, Shannon, Kerry and Cork provide vital transport access points for Gaeltacht areas, their communities and businesses and Údarás na Gaeltachta welcomes the continued Government funding for the development of the services available from these Airports.