Údarás na Gaeltachta welcomes an €8.13m increase in core funding in the 2021 Budget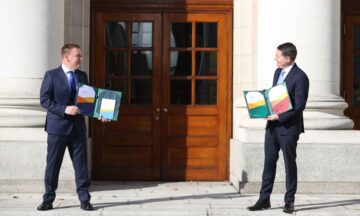 Údarás na Gaeltachta has welcomed the announcement by the Minister for Finance, Paschal Donohoe, the Minister for Public Expenditure and Reform, Michael McGrath, the Minister for Media, Tourism, Arts, Culture, Sport and the Gaeltacht, Catherine Martin and Government Chief Whip and Minister of State for Sport and the Gaeltacht, Jack Chambers, that Údarás na Gaeltachta's core funding will see an €8.132m increase in 2021.
An increase of €4.454m has been announced in the organisation's capital budget which means Údarás na Gaeltachta will have a capital expenditure of €14.45m in order to undertake its development, enterprise and employment programme and to assist Gaeltacht companies affected by the COVID-19 emergency. The organisation's current budget also sees a €2.978 million increase to assist with salaries and pensions which means the organisation will have a total current budget of €12.58m in 2021. In addition, there will be a €700,000 increase for the Community, Language and Community Development Organisations Fund which will equate to a budget of €4.75m available in 2021 from which the funding Cooperatives and Community Development Organisations is financed.
We also welcome a portion of the language planning budget of €5m, which will be available to Údarás na Gaeltachta to assist with the implementation of language plans in the 26 Language Planning Areas and in the 3 Gaeltacht Service Towns that come under its responsibility under the process.
Speaking of the budget increase, Údarás na Gaeltachta's Chief Executive Officer's Mícheál Ó hÉanaigh said:
"We welcome the announcement that the organisation's base line funding for capital, current, community and language funds will be increased.  The significant challenges and difficulties created by the COVID-19 emergency need to be addressed and the additional funding will assist Údarás na Gaeltachta to support the Gaeltacht community by developing enterprise, stabilising current employment and by maintaining and funding job creation initiatives. The increase in core funding available to the organisation is vitally important in aiding Gaeltacht businesses and communities to recover from this crisis.  An assessment of the effect that COVID-19 and Brexit will have on Gaeltacht Businesses has been carried out in conjunction with the Department of Tourism, Culture, Arts, Gaeltacht, Sport and Media and this increased funding will provide Údarás with an opportunity to make a strong start on the implementation of our new 5-year strategy to assist businesses in overcoming current challenges. We are preparing an ambitious plan for the Gaeltacht which will have the sustainability of the Gaeltacht, its Culture, Economy and Language are its core and, as always, will continue to be our priority."