Údarás na Gaeltachta welcomes a €600,000 fund to help Gaeltacht companies trade online
Údarás na Gaeltachta welcomes a €600,000 fund to help Gaeltacht companies trade online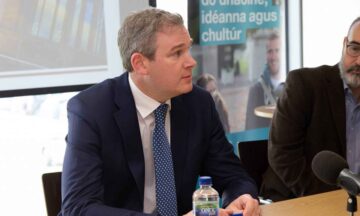 Údarás na Gaeltachta welcomes the announcement by Minister Heather Humhpreys, T.D., Minister Richard Bruton, T.D. and Minister of State Seán Kyne, of a €600,000 fund allocated to Údarás na Gaeltachta to continue the provision of an Online Trading Scheme support in the Gaeltacht.
The fund will enable Údarás na Gaeltachta to assist Gaeltacht companies to improve their online trading capabilities.  The new fund is being made available jointly through a partnership with the Department of Communications, Climate Action and Environment, the Department of Culture, Heritage and the Gaeltacht, the Department for Business, Enterprise and Innovation and Údarás na Gaeltachta.
Under the Online Trading Scheme a maximum grant of up to €2,500 or 90% of eligible expenses, excluding VAT, whichever is lower, is available to eligible businesses to develop and strengthen their ability to trade 'online'.  This scheme, based on similar national schemes, was introduced by Údarás na Gaeltachta in 2017 in order to increase the number of Gaeltacht businesses trading online.
In addition to the usual demand for such support, it is recognised that the present exceptional circumstances as a result of COVID-19, that businesses are under significant pressure and wish to develop their ability to do conduct their business online. It is also of note that this scheme is open to eligible companies operating in the Gaeltacht and not just Údarás na Gaeltachta's client companies.
This scheme has been a valuable support to businesses big and small over the past three years to enhance their capability to trade 'online' and, as a result of this, to stabilise and develop the employment foundation.
"We warmly welcome the announcement by Ministers Humphreys, Bruton and Kyne that the fund is available to support those who are dealing with challenges created by the current emergency.  We are very pleased to be working alongside the Department of Culture, Heritage and the Gaeltacht, the Department of Communications, Climate Action and Environment and the Department for Business, Enterprise to ensure that the appropriate supports are available to Gaeltacht companies during this pandemic.

Mícheál Ó hÉanaigh, Chief Executive Officer Údarás na Gaeltachta