Údarás na Gaeltachta to initiate research into green energy generation on Conamara business parks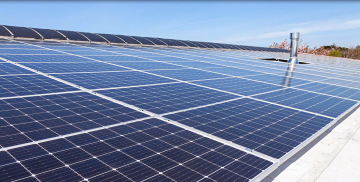 Údarás na Gaeltachta is to initiate research into practical solutions for the greening of the energy needs of its business parks and reducing their carbon footprint in the coming years as part of its strategic project 'An Ghaeltacht Ghlas' (The Green Gaeltacht). An Ghaeltacht Ghlas is an action of the Governments Climate Action Plan 2021 published this week.
The Board of Údarás na Gaeltachta has recently approved funding of €35,000 to carry out research in relation to creating a Green Business Park model for the organisation which could be emulated in other areas throughout the Gaeltacht and the country.  The research will examine the most effective ways to generate renewable energy on two business parks in Conamara including continuing the development of photovoltaic projects on the roof tops of Údarás property.
It is hoped to identify the most effective longterm renewable energy options so that An Cheathrú Rua and Casla Business Parks can be sustainable in terms of energy while using local natural resources. Údarás will look to implement the results and recommendations of the research in collaboration with Comharchumann Mhic Dara in An Cheathrú Rua in the context of the recently published An Cheathrú Rua Action Plan and the central role that Gaeltacht cooperatives have in the implementation of Údarás na Gaeltachta strategic goals.
A photovoltaic project of over 130kw including car charging facilities was recently developed by Comharchumann Mhic Dara in association with Údarás na Gaeltachta on An Cheathrú Rua Business Park.  Photovoltaic panels have been installed on two buildings on the Business Park and the project will reduce electricity costs for Comharchumann Mhic Dara which is located in the building, and it also reduces the carbon footprint in the area.
The development of renewable energy is a core feature of Údarás na Gaeltachta's 2021 – 2025 Strategy. The concept of 'An Ghaeltacht Ghlas' (The Green Gaeltacht) places an emphasis on the viability and sustainability of Gaeltacht communities and is a key objective of the organisation's strategy.  A report published by Údarás na Gaeltachta recently identified the possibilities of developing Ros an Mhíl Harbour and Údarás lands surrounding the harbour as a strategic hub to support the offshore wind industry, which would be beneficial not only to the Conamara area but to the Country in terms of renewable energy.
Speaking in relation to the proposed research Anna Ní Ghallachair, Chairperson of the Bord of Údarás na Gaeltachta said:
"It is vitally important that Údarás na Gaeltachta is at the forefront in inspiring and promoting emerging sectors in Gaeltacht areas.  The Board is pleased to approve funding for this research which will supplement the recent report in relation to Údarás property in Ros na Mhíl and the significant opportunities identified there to utilise natural resources to assist in combating climate change but also in creating employment in this Gaeltacht area."
Údarás na Gaeltachta's Chief Executive Officer Mícheál Ó hÉanaigh spoke about the proposed development:
"Each organisation and region has a part to play in ensuring that climate change is being addressed and that our carbon footprint is being reduced.  Údarás na Gaeltachta has set An Ghaeltacht Ghlas (The Green Gaeltacht) as an ambitious objective in its new strategy and research and developments such as this will ensure that Gaeltacht areas are sustainable and green as far as is possible.  We hope that this project will be an exemplary project for Gaeltacht and rural areas."