Údarás na Gaeltachta Board approves support package for significant expansion of Cambus Medical/Freudenberg Medical in An Spidéal
€1.9m development of facilities and 40 new jobs to be created in medical device company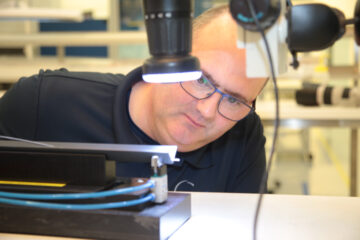 The Board of Údarás na Gaeltachta has approved a support package for the medical device company Cambus Medical/Freudenberg Medical Europe GmbH to undertake a significant expansion of the company's facilities in An Spidéal.
It is estimated that over 40 new jobs will be created by the company when the expansion has been completed, with a support package of over €1.9m for building refurbishment. Over 1,700 square metres of additional space will be added to the company's current substantial facilities in An Spidéal in Conamara, which will provide extra production/manufacturing space and administration offices. This will allow the company the opportunity to overcome previous capacity limitations, to develop new manufacturing capabilities, and to explore new business opportunities and win new customers.
Currently, over 135 people are employed in Cambus Medical/Freudenberg Medical, which manufactures tubing and micro components for the medical device sector. Since Barry Comerford and John Farragher established the company in 2006, Cambus Medical has grown its customer base significantly in Ireland and overseas. The company has gained recognition in the medical device industry for its expertise in tubing and as a solutions provider. In 2012 the company entered into a strategic partnership with Freudenberg Medical Europe GmbH, a global leader in manufacturing in the medical device sector.
The funding for this project, part of a national construction scheme, has been made available under the Government's Covid-19 Jobs Stimulus Package announced by the Minister for Tourism, Culture, Arts, Gaeltacht, Sport and Media, Catherine Martin TD, and the Minister of State for Sport and the Gaeltacht, Jack Chambers TD earlier this year.
Announcing the package Anna Ní Ghallachair, Chairperson of the Board of Údarás na Gaeltachta said:
"On behalf of the Board of Údarás na Gaeltachta, I wish to congratulate Cambus Medical/Freudenberg Medical on the considerable progress made by them in recent years. This company, which was started by two local entrepreneurs with the support of Údarás, is a source of pride for the Gaeltacht and is now  both expert and pioneer in the development and manufacturing of tubing for the medical device sector. This investment would not be possible without the funding provided to Údarás na Gaeltachta under the Jobs Stimulus Package which was announced by the Government in response to the Covid-19 Pandemic. "
Mícheál Ó hÉanaigh, Údarás na Gaeltachta's Chief Executive Officer added:
"We are greatly encouraged  by the close partnerships we have developed with our client companies and the unprecedented progress that the medical devices sector has achieved in the Gaeltacht in recent years.  Cambus Medical/Freudenberg Medical in An Spidéal has provided significant employment over the years and has also been a valuable partner in local educational events and programmes. We look forward to supporting Barry Comerford, Dr Mark Ostwald and their colleagues as they continue to develop this innovative world class global company.  This investment illustrates how the Jobs Stimulus Package and the State's investment in Gaeltacht areas has had, and will continue to yield, positives results."
Since this joint venture between Freudenberg Medical and Cambus Medical was established, the company has focused on new business developments such as coating, microcomponent manufacturing, specialty needles and insert mouldings, solutions which enhance 'Hypotubing', the company's other products.
Cambus Medical operates in 60+ countries worldwide and at present it is focusing on markets and international growth opportunities in Asia and South America. The new facilities being developed by the company, with support from Údarás na Gaeltachta, will allow it to further develop its new product supply to meet the needs of customers and respond to new opportunities while creating additional employment in the Gaeltacht.