Údarás na Gaeltachta board approve support package for 12 new jobs and visitor centre for Drioglann Thír Chonaill in Croithlí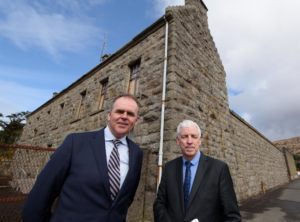 The Board of Údarás na Gaeltachta approved a support package recently for Drioglann Thír Chonaill Teo. to establish a distillery business and to develop a visitors centre at Coillín Darach, Croithlí in Co. Donegal. It is estimated that up to 12 new jobs will be created over the next five years with a support package of over €121,000 from Údarás na Gaeltachta and a total investment of over €271,000.
The proposed project is for a craft distillery which will be focussed on the international tourism market coming to Donegal. The proposed distillery and visitors centre will be located in the famous Croithlí Factory, subject to the appropriate planning permission being received, and significant renovation works will be required on the building to bring it to the appropriate standard and to adapt it for lease to the project. The distillery and the visitors centre will add significantly to the Wild Atlantic Way tourism experience in the Donegal Gaeltacht.
Seosamh Ó Duibheannaigh, Conor McMenamin and Kieran Davis are the project promoters and intend to start on a small scale, focus on the tourist industry and the international whiskey market. It is intended to develop the distillery on a phased basis over a period of time commencing with a production centre and hope to produce over 15,000 litres of alcohol annually for the first 5 years in order to develop a high quality product.
Údarás na Gaeltachta Chief Executive, Mícheál Ó hÉanaigh commented "We are very happy to be able to support this project and to have jobs back in the famous Croithlí factory again. This development will be a valuable asset for the tourism product and experience in the Donegal Gaeltacht."