The West is Awake and with a Global Reach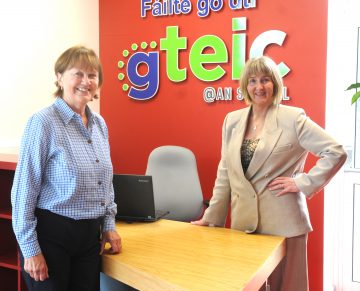 As the world and life returns to some degree of normality, gteic@An Spidéal client Go West  Conference & Event Management is hopeful that its business will once again return to prepandemic activity but with a new mix of both virtual and in person events:
"At the moment we are busy with virtual conferences and this has been the situation since April 2020.  We are delighted that Food on the Edge, a two-day symposium for chefs & food enthusiasts from all around the world is taking place in house and virtually in the Airfield Estate Dublin on the 17th & 18th October, we expect to have 300 people in attendance. There will be a mix of in-person speakers with other speakers joining virtually."
 Go West is an award-winning professional conference and event management company with over 26 years of experience of managing international and national conferences & events. The company is situated in gteic@An Spidéal, which is located in the quaint village of An Spidéal in Co. Galway.
Working from the hub during the pandemic helped the business to continue to achieve its goals while navigating uncharted territory:
"The high-speed internet access was hugely beneficial to our company especially during COVID-19 as we had to change tack and start organising virtual conferences.    We had many skills but had to adapt our business model and begin using streaming platforms while also delegating communication, delegate engagement, speaker liaison, speaker recordings and event production.  Access to spacious and well-equipped meeting rooms was also very helpful and gave a good impression when meeting clients  either virtually or in person."
From that location Go West Conference & Event Management, which has been in business since 1995 and was co-founded by Kathleen McDonagh and Kerry O'Sullivan, has worked on conferences and events including association conferences, educational meetings, medical & scientific conferences, public-sector conferences, corporate conferences and corporate events. They have worked with many clients over numerous events and years and in 2019 the company was voted Best Professional Conference Organiser at the Irish Events Industry Awards.
Undoubtedly the global pandemic had a significant effect on this sector:
"It will be a slow process to get international delegates back to attend conferences in Ireland to match the 2019 numbers. As members of Association of Irish Professional Conference Organisers (AIPCO) we are working together with Fáilte Ireland to promote Ireland as being open for business. Our tour business has been affected hugely; we do not have any tours coming to Ireland in 2021.  However, there are some green shoots we have some tours booked for 2022 starting in May, some of the tours for 2022 have been postponed from 2020 and there are some new enquiries."
The Go West team thrives on delivering successful, professional, and stress-free conferences for clients and are responsible for the management of countless itineraries for overseas groups throughout Ireland.  Working from gteic has been a new and exciting venture for the company which many great benefits for the team.
"It's inspiring to work in a modern, innovative and attractive building and be part of the gteic community. The facilities in the gteic are great as well as the comfort of the office and the fast broadband the coffee/lunch area is very pleasant and enjoyable, it's always nice to catch up with other members of the gteic community. The location of the building is excellent, during break  we can step outside the door and go for a walk along the beautiful promenade, visit the pleasant shops in the Craft Centre or have coffee or lunch in the lovely coffee shop Builín Blasta. It's also great not to be stuck in traffic while commuting and to have free parking outside the door of the office.  This has been a positive move for our business."