Tá muid ag fanacht leat - Conamara Láir community go global to ensure a bright future
Live Here, Work Here, Raise Your Family here. Tá muid ag fanacht leat - We're waiting for you.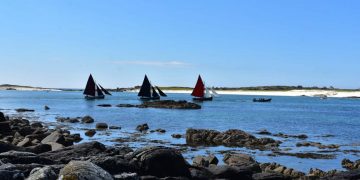 Conamara Láir, a proud rural community nestled along the majestic Conamara coastline, is being promoted as one of the best places in the world to live and to work.  The ambitious campaign was launched today, on Lá Mhic Dara by the Conamara Láir Community in conjunction with Údarás na Gaeltachta.
The first film from the campaign https://youtu.be/4WXIf2mSdEg highlights the quality of life and the opportunities available to people, families and businesses in Conamara Láir to encourage people to come to live or work in the area.
Lá Mhic Dara (16th July) is an important annual festival for the Conamara Láir community and a day when the area's diaspora return to their native shore from far and wide and a day which is celebrated by the area's descendants in every corner of the world.  This year, COVID-19 restrictions mean this majestic area will be celebrated online around the globe on this special occasion.
A warm welcome awaits those who wish to return home or those who wish to change their lives and relocate here when COVID-19 restrictions are lifted.  A fantastic work life balance is available in this area which provides enterprise prospects from its gteic facility, which is part of a national digital hub network, providing many opportunities for local people, new businesses and those who wish to work remotely.
Referring to the campaign Máirín Ní Choisdealbha Seoige from Forbairt Chonamara Láir said:
"Conamara Láir is one of Ireland's cultural gems and despite ongoing challenges such as emigration and a decline in population the area has seen a revival in recent years. This proud community has not lost its confidence or spirit and we want to showcase to the world the wonderful opportunities and future this area can provide to people who wish to move home or relocate to Conamara Láir. Notwithstanding the refusal of planning permission for the Páirc na Mara project this week it does not represent the last word for that project or indeed other projects that are being developed in the area. We have a big future ahead and there are many opportunities for people to change and improve their lives."
Supporting the launch of the campaign Mícheál Ó hÉanaigh, Chief Executive Officer, Údarás na Gaeltachta said:
"Tá muid ag fanacht leat – We are waiting for you – that is the strong message from Conamara Láir today.  Conamara Láir is an historic and scenic area in which to live and start a business in and we are looking at innovative ways to attract people to live in the area.  The success of the gteic digital hubs over the past year has shown that you can connect with anywhere in the world from rural areas, areas with a better quality of life."
The campaign describes what life is like for local people and those people who moved to the area, and the opportunities they have been afforded in terms of business and employment.
Through powerful local personal stories the campaign's aim is to connect with people, families and businesses, to share information with them and inspire them to locate and take an active part in this vibrant cultural community.
Profiles include:
Fiona Ní Fhlaithearta
A presenter with TG4, gives a personal account of her decision to return home to Conamara Láir from Australia and to rear her young family in her native area.
"Sometimes I say to myself that it would be lovely to move back to Australia –– but when I think of my parents, the support we have here, the culture, the Irish language, the security, my jobs etc – I now understand that I'm living in the right place."
Seán Ó Cathasaigh
A local man, he and his wife Mae, both teachers, are residing in their own area, raising a family, and very involved in the local community.
"It's very peaceful here, it's tranquil, you have freedom, you can do whatever you want, so can the children."
Evelyn O'Toole
Evelyn O'Toole, CEO of Saotharlann Chonamara Teo. (CLS), one the largest employers in Conamara Láir, describes what it's like to be in business in Conamara Láir and supplying products and services from this windswept area. "There is probably never been a better time to consider, working where you'd love, with a backdrop of stress free, but the capability of supplying a world class product from where you love."
Seán Ó Cualáin
Renowned TV Producer, local businessman, family man, community leader and sports enthusiast outlines the indomitable spirit of the community and that a global creative connection can be made from this picturesque and historic area.
Titta Jones
Titta Jones, who is originally from Finland, moved her business and family from Dublin to Carna in the past year.  Titta, the owner of Lilly's Eco Clean, describes the quality of life the household has in Conamara Láir.
The campaign launched online today will be hosted by Forbairt Chonamara Láir with the support of Údarás na Gaeltachta in the weeks and months ahead.  The hope is to increase relocation enquiries to the area and will endeavour to have 8 new households relocated within two years.
To facilitate enquiries Forbairt Chonamara Láir will be providing a local concierge service at eolas@Conamaralair.ie or 095 32688.