Sustainable Tourism is King in the Kerry Gaeltacht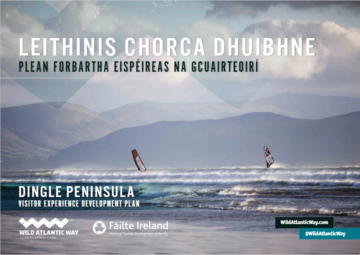 The recently launched Dingle Peninsula Visitor Experience Development Plan will benefit the entire Corca Dhuibhne Peninsula according to Údarás na Gaeltachta's Southern Regional & Community Development Manager, Dónal Ó Liatháin. Údarás na Gaeltachta was one of the main driving forces behind the Plan along with Fáilte Ireland and Kerry County Council.
'We welcome Fáilte Ireland's plan and are extremely happy with our role in its preparation alongside other organisations', said Ó Liatháin. 'We look forward to being part of it and supporting its implementation. The plan will be developed with the tourism industry and communities to create a platform for a destination to attract visitors, entice them to stay longer and engage with the various activities on offer throughout the peninsula.'
Various aspects of Gaeltacht life on the Corca Dhuibhne Peninsula will be developed and enhanced combining tourism, heritage, culture and language to attract visitors to the entire region, to spend more time there and to showcase the best the peninsula has to offer from crafts, open air activities, to language and heritage.
The plan was compiled by Fáilte Ireland, Kerry County Council and Údarás na Gaeltachta along with other stakeholders to enhance the visitor experiences that already exist and to develop more over the next few years. The tourism industry is an extremely important one, and not only did COVID-19 affect tourism on the Corca Dhuibhne Peninsula and in Kerry, the entire country was impacted, however the actions in this plan will attempt to stabilise the industry, support its recovery and protect and develop this picturesque area in Kerry.
Údarás na Gaeltachta will play a pivotal role in the implementation of the plan through funding and fostering economic, social and cultural development, and through mentoring and supporting the group designed to encourage businesses to embrace an experience and deliver it.
Over the next five years, the plan's chief objectives will be implemented, all of which focus on attracting visitors to the area, having them stay in places throughout the Corca Dhuibhne Peninsula while protecting and preserving the area and its landscape.
The development plan is available to view here.