Student Entrepreneurs Claim National Crown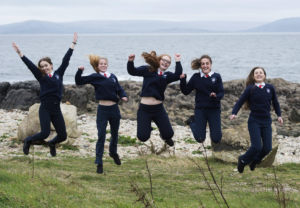 Cothú Cinnte, a company from Coláiste Chroí Mhuire, An Spidéal, Co. Galway was acclaimed as the winner of the Údarás na Gaeltachta – Clár Comhlachta 2017 at the national final held at the Connamara Coast Hotel today (March 15th).
With more than 500 Transition Year students taking part in Gaeltacht regions in Cork, Galway, Donegal, Kerry, Mayo, Meath & Waterford, eight teams were ultimately selected to proceed to the national final. The standards set by these regional winners means the winner of the Clár Comhlachta can be regarded as particularly astute entrepreneurs.
Cothú Cinnte is comprised of Liadh Robertson, Rebecca Ní Alluráin, Aoife Nic Chormaic, Blanca Ní Dhonnabhain and Maire Ní Fhrighil. The company produces hand-painted, glazed dinner plates, depicting areas for starch, vegetables and protein. The areas are labelled as gaeilge and can be personalised when ordered! Their aim is to promote healthy eating and encourage people to include more vegetables in their diet. Cothú Cinnte was mentored by local business volunteer Barry Comerford from Cambus Medical.
Alongside the winning company from Coláiste Chroí Mhuire, An Spidéal teams from Scoil Mhuire, Béal Átha'n Ghaorthaidh, Cork; Pobalscoil Chorca Dhuibhne, An Daingean, Kerry; Scoil Phobail Mhic Dara, Carna, Galway; Scoil Mhuire, Béal A' Mhuirthead, Mayo; Coláiste Pobail, Acla, Mayo; Pobalscoil Ghaoth Dobhair, Leitir Ceanainn, Donegal; Gairmscoil Mhic Diarmada, Árainn Mhór, Donegal, represented their families, their business mentors and their schools with distinction at the national finals.
Clár Comhlachta is a hands-on business learning experience developed and delivered in partnership with Junior Achievement Ireland (JAI) and is taught through the Irish language to students attending schools in Gaeltacht regions. Based on the well-established JA Company Programme and Company of the Year Competition, students create, operate and manage their own business as they move from the idea generation stage, to production, marketing, sales, finance right through to going to market. The programme provides numerous opportunities for the development and reinforcement of important academic and leadership skills. Local business volunteers, each of whom is recruited, trained and supported by JAI, mentor the students alongside their teachers.
The Clár Comhlachta national final followed the regional finals, which this year took place in Kerry, Mayo, Galway and Donegal. Over the course of the national final, the emerging entrepreneurs exhibited at trade stands, displayed their business acumen during the judges' interview and held their nerve to present their business ideas on stage in front of a public audience.
The judging panel comprising Sinéad NÍ Fhatharta, Údarás na Gaeltachta and Ruairí Ó Nuadháin, HID Global were very impressed with the performance of the students across each element of the competition and had a very tough decision to make. The team from Co. Galway came out on top based on the combined scores given to the company's business plan, the excellence of the work at the trade stand, the quality of their interview and the poise and professionalism of the business pitch and presentation in front of a large invited audience.
Stiofán Ó Cualáin, CEO of Údarás na Gaeltachta, commented: "Údarás na Gaeltachta would like to congratulate Junior Achievement Ireland and the Gaeltacht transition year students and teachers for undertaking the Clár Comhlachta nationwide this year. Special congratulations to our winning team from Coláiste Chroí Mhuire, An Spidéal, Co. Galway for your dedication and entrepreneurial flare. I am confident that these efforts will inspire new Gaeltacht enterprises in the future – mol an óige agus tiocfaidh sí!"
Helen Raftery, CEO, Junior Achievement Ireland added: "We really appreciate the support from Údarás na Gaeltachta to run Clár Comhlachta in schools across the Gaeltacht areas. We also wish to extend a special thank you to the teachers and mentors who enabled more than 500 senior cycle students to take part this year. Congratulations to the teams that won the right to compete at the regional and national finals and to Coláiste Chroí Mhuire, An Spidéal, Co. Galway for being first among equals. Our mission is to provide meaningful learning opportunities to enhance employability and work-readiness among our young people and to encourage students to maximize their potential. The excellence of the teams involved and the experience gained from the real-life learning opportunities afforded to the students is evidence of the benefits of combining the resources of our supporting organisations, including the expertise and commitment of our business volunteers, to complement the work of teachers in schools."