"Stucaí an Screabáin"
Official launch of "Stucaí an Screabáin" the new public art feature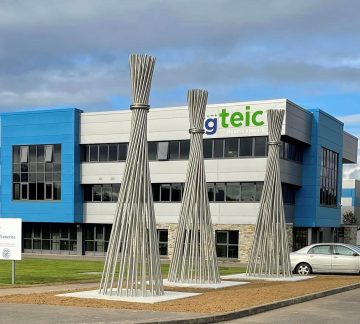 The public art installation "Stucaí an Screabáin", located outside Áislann Ghaoth Dobhair, will be offically launched on Wednesday morning at 11:00 a.m. by Údarás na Gaeltachta Chairperson, Anna Ní Ghallachair.
The work was commissioned as part of the Per Cent for Art scheme, through which Údarás na Gaeltachta, Donegal County Council and Ealaín na Gaeltachta sought applications from artists for a public art feature, highlighting the traditional heritage of work and labour locally.
The application which was submitted by the renowned artist Locky Morris was accepted, and his new and unique work of art perfectly reflects the chosen theme.
Údarás na Gaeltachta acting Chief Executive, Colm Ó Coisdealbha said:
"The themes reflected in this piece of art are themes which are strongly linked to the heritage and collective memory of the Donegal Gaeltacht community; they recall the labour of previous generations, the hard work undertaken at home and abroad, and the many changes in traditional work and work practices in recent years. "Stucaí an Screabáin", located on Páirc Ghnó Ghaoth Dobhair, also brings to mind the massive changes brought about by technological advancement and the great opportunities it creates for Gaeltacht communities."
"We congratulate the artist Locky Morris and his colleague Mark Hill, agus all who played a part in bringing this wonderful project to fruition; we hope it will be a source of joy and reflection to the local community."
All are welcome to the official opening.