Proxy Biomedical Ltd, a Connemara based medical device company, announces €3.5m expansion and plans to create 35 new jobs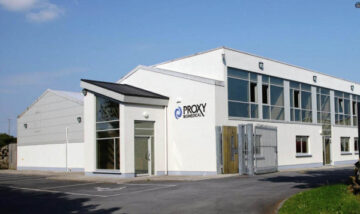 Proxy Biomedical Ltd today (18th July) announced that it is undertaking a substantial expansion at its facility in An Spidéal, Co. Galway, with a total investment of €3.5 million. The company's development plan is supported by Údarás na Gaeltachta and will lead to the creation of 35 new jobs.
Proxy Biomedical Ltd designs, develops and manufactures implantable medical products, on behalf of leading medical device manufacturers worldwide. The company began by supplying hernia repair products to the General Surgery market, and now offers a full suite of hernia repair product development solutions.
Following significant investment in research and development and in state of the art processing technologies, Proxy Biomedical expanded its solutions portfolio into new markets. It now designs and manufactures a range of biomaterial coverings, coatings and textile solutions for Vascular implants, as well as high strength resorbable implants and textile solutions for Orthopaedics and Sports Medicine. To meet growing demand and to accommodate these additional technologies and services, the company is doubling its ISO Class 8/ 100,000 cleanroom manufacturing facilities, and extending its R&D facilities.
Welcoming the announcement, Minister of State for Gaeltacht Affairs, Sean Kyne TD said, "This is great news for the area. This expansion phase will provide much needed highly-skilled jobs in the Galway Gaeltacht, as the company increases its workforce to 75 employees over the next two years."
Peter Mulrooney, Proxy Biomedical CEO, acknowledged, "The new facilities will support the company's ongoing growth and strategic development initiatives, as Proxy Biomedical continues to broaden its technology portfolio to address unmet needs and deliver innovative solutions for our key markets. "
Steve Ó Cúláin, CEO of Údarás na Gaeltachta said, "We have been working closely with this company since it relocated its operations to an Údarás-owned facility in An Spidéal in 2008. Since then, the company has doubled its employment, invested heavily in research, and developed a highly innovative solutions portfolio. This is a sophisticated and technologically advanced company, servicing a global medical device market. We are delighted to be in a position to support Proxy Biomedical's next expansion phase and very much welcome the new jobs that this development will bring to the area."
Proxy Biomedical is currently recruiting positions in manufacturing engineering, biomaterial engineers, quality and regulatory, as well as production operatives.