Opportunities to reinvent careers and livelihoods for the Gaeltacht community post COVID-19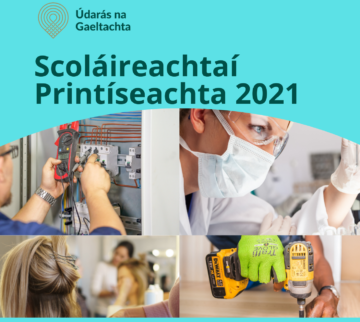 Over 50 apprenticeship scholarships available in a scheme worth €200,000
People affected by the COVID-19 pandemic can avail of the opportunity reinvent their livelihoods and careers as a result of the Údarás na Gaeltachta Apprenticeship Scholarship Scheme which was announced today.   Over 50 apprenticeship scholarships worth more than €2,000 per scholarship are available to assist people who wish to learn a trade or undertake a new career.
As a result of the COVID-19 emergency, people can seize the opportunity to undertake a new career or trade or to upskill and obtain an apprenticeship qualification recognised by the National Apprenticeship Council.   Qualifications are awarded at Level 6 upwards to degree standard in accordance with the national training framework Quality and Qualifications Ireland (QQI).
The scheme encompasses 12 various sectors which covers 59 different apprenticeships, all of which are recognised by SOLAS and open to the Gaeltacht community for applicants whom are fluent in Irish.
Apprenticeship Scholarships are available in the following sectors:
| | |
| --- | --- |
| ·        BioPharma; | ·        Hospitality and Food; |
| ·        Construction; | ·        ICT; |
| ·        Electrical; | ·        Logistics; |
| ·        Engineering; | ·        Motor; |
| ·        Finance; | ·        Property Services; |
| ·        Hair; | ·        Sales. |
Although traditional trades such as plumbing, carpentry, mechanical and electrical are still very popular, in recent years there has been a significant uptake in modern apprenticeships as more people participate in apprenticeships in BioPharm, Engineering, Financial Services, Accountancy, Computing and so on.
Support of over €2,000 is available to companies/contractors who are willing to employ apprentices during the apprenticeship period.  The scheme is very beneficial to companies and Údarás na Gaeltachta client companies have a long history in supporting apprentices who are learning their trade.  Údarás na Gaeltachta has been administering this scheme since the 1970s and to this day it supports Gaeltacht applicants in gaining a qualification in any one of the SOLAS accredited Quality Assured Apprenticeship Schemes. Under the Údarás scholarship, financial assistance is provided to the apprentice and the company/contractor he/she is employed by at various stages throughout the apprenticeship.
Announcing the Scholarship Scheme Údarás na Gaeltachta's Chairperson Anna Ní Ghallachair said:
"We are extremely proud of this scheme and the people who have qualified in various trades over the past forty years.   The success of the scheme and our long-standing involvement with it indicates just how popular it is and shows the huge interest in the acquisition of both traditional and modern skills."
Údarás na Gaeltachta's Chief Executive Officer Mícheál Ó hÉanaigh stated:
"The organisation's long history with the scheme indicates its benefits to the Gaeltacht community.  We are extremely proud of the huge amount of work put into the scheme since the 1970s to this day, which has seen many who started out as apprentices now owning their own businesses.  We are grateful to the employers and companies who have supported apprentices over the years.  We would also like to thank SOLAS who has supported us in promoting education and training opportunities in the Gaeltacht."
The spring call for applications for the Údarás na Gaeltachta Apprenticeship Scholarship Scheme 2021 is open until the 05/03/2021.  The scholarship scheme is open to a broad cross section of the Gaeltacht public with a minimum requirement for applicants to be 16 years of age and not in full time education.  Those interested in learning more regarding the Scholarship Scheme's eligibility criteria should visit www.udaras.ie and apply online here.
Further Information:
The Apprenticeship Scholarship Scheme – what does it entail;
Trade Apprenticeship: (carpentry, electrical, plumbing, plastering, etc),
An Advanced Certificate is awarded, with Quality and Qualifications Ireland accreditation/ QQI Advanced Level 6 to those who complete the course.Up to 40 scholarships are being offered to successful eligible participants.
Modern Apprenticeship:
Since 2016, new methods have been developed to meet the gap in skills recognised in different sectors. At present there are 55 apprenticeship courses, fully approved under the National Framework for Quality (10 additional courses from last year).  Additions are being made to the list continuously and all details can be found at apprenticeship.ie.Up to 10 scholarships are being offered to successful eligible participants.
A full list of the 59 apprenticeships available under the Údarás na Gaeltachta Apprenticeship Scholarship Scheme 2021 is as follows:
| | | |
| --- | --- | --- |
| BITHCHÓGAIS (BIOPHARMA) |   | FÁILTEACHAS AGUS BIA  (HOSPITALITY & FOOD) |
| Anailísí Saotharlainne  (Laboratory Analyst) | | Búistéir (Butcher) |
| Teicneoir Saotharlainne  (Laboratory Technician) | | Chef de partie |
| TÓGÁIL (CONSTRUCTION) | | Commis Chef |
| Bríceadóireacht agus Obair Chloiche (Brick and Stonelaying) | | Sous Chef |
| Cearpantóireacht agus Siúinéireacht (Carpentry and Joinery) |   | TFC  (ICT) |
| Geo-Dhruileálaí (Geo-Driller) | | Ealaíontóir Teicniúil CGI  (Beochan, Cluichí, VFX) (CGI Technical Artist (Animation, Games, VFX) |
| Péinteáil agus Maisiúchán (Painting and Decorating) | | Cibearshlándáil (Cybersecurity) |
| Plástráil (Plastering) | | Innealtóir Líonra Comhlach (Network Engineer Associate) |
| Pluiméireacht (Plumbing) | | Forbróir Bogearraí Comhlach (Software Developer Associate) |
| Gearradh Cloch agus Saoirseacht Chloiche (Stonecutting and Stonemasonry) | | Teicneoir Innealtóireachta Teileachumarsáide agus Líonra Sonraí (Telecommunications and Data Network Technician) |
| Déantúsaíocht agus Bailchríochnú Adhmaid (Wood Manufacturing and Finishing) |   | LÓISTÍOCHT (LOGISTICS) |
| Leictreach (Electrical) | | Bainisteoir Lean Sigma (Lean Sigma Manager) |
| Meicnic Aerárthach (Aircraft Mechanics) | | Comhlach Lóistíochta (Logistics Associate) |
| Leictreach (Electrical) | | Comhlach Slabhra Soláthair (Supply Chain Associate) |
| Ionstraimíocht Leictreach (Electrical Instrumentation) | | Bainisteoir Slabhra Soláthair (Supply Chain Manager) |
| Córais Slándála Leictreonaí (Electronic Security Systems) | | Speisialtóir Slabhra Soláthair (Supply Chain Specialist) |
| Innealtóir Leictreach Tionsclaíoch (Industrial Electrical Engineer) |   | MÓTAR (MOTOR) |
| Ionstraimíocht Leictreach (Electrical Instrumentation) | | Meicnic Talmhaíochta (Agricultural Mechanics) |
| Cuisniúchán agus Aerchóiriúchán (Refrigeration and Air Conditioning) | | Feistiú Gléasra Tógála (Construction Plant Fitting) |
| INNEALTÓIREACHT (Engineering) | | Meicnic Feithiclí Troma (Heavy Vehicle Mechanics) |
| Bainistíocht Seirbhísí Innealtóireachta (Engineering Services Management) | | Meicnic Mótair (Motor Mechanics) |
| Crúdóireacht (Farriery) | | Deisiú Creatlach Feithiclí (Vehicle Body Repairs) |
| Insliú Tionsclaíoch (Industrial Insulation) |   | SEIRBHÍSÍ RÉADMHAOINE (PROPERTY SERVICES) |
| Innealtóireachta Déantúsaíochta (Manufacturing Engineering) | | Ceantálaíocht agus Seirbhísí Réadmhaoine (Auctioneering and Property Services) |
| Teicneolaíocht Déantúsaíochta (Manufacturing Engineering) |   | DÍOLACHÁN (SALES) |
| Uathoibriú Meicniúil agus Feistiú Cothabhála (Manufacturing Engineering) | | Maoirseacht Mhiondíola (Retail Supervision) |
| Oibriú Miotail (Metal Fabrication) | | Díolachán (Sales) |
| Innealtóir OEM (OEM Engineer) |   | CRANNADÓIREACHT (ARBORICULTURE) |
| Feistiú Píobáin (Pipefitting) | | Crannadóireacht (Arboriculture) |
| Teicneolaíocht Próiseála Polaiméirí (Polymer Processing Technology) |   | EARCAÍOCHT (RECRUITMENT) |
| Oibriú Miotail Leatháin (Sheet Metalworking) | | Feidhmeannach Earcaíochta (Recruitment Executive) |
| Príomhinnealtóir (Principal Engineer) |   | GRUAIG (Hair) |
| Uirliseoireacht (Toolmaking) | | Gruagaireacht (Hairdressing) |
| AIRGEADAS (Finance) |   |   |
| Teicneoir Cuntasaíochta (Accounting Technician) | | |
| Cleachtóir Árachais (Insurance Practitioner) |   |   |
| Comhlach Seirbhísí Airgeadais Idirnáisiúnta (International Financial Services Associate) | | |
| Speisialtóir Seirbhísí Idirnáisiúnta Airgeadais (International Financial Services Specialist) | | |