One of Údarás na Gaeltachta's most successful schemes continues to provide opportunities for the Gaeltacht community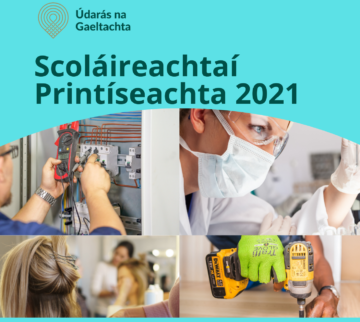 The Údarás na Gaeltachta Apprenticeship Scholarship Scheme, which has been running for over 40 years, continues to provide the Gaeltacht community with opportunities as the scheme reopens for the 2021 summer call.  Fifty apprenticeship scholarships worth more than €2,000 per scholarship are available this year to assist people who wish to learn a trade or undertake a new career.
The scheme's spring call earlier this year saw a significant increase in applications received by Údarás na Gaeltachta for the apprenticeship scheme but there is still an opportunity for people to reinvent their careers and livelihoods with over twenty scholarships available for qualifying applicants.
Many people in the Gaeltacht have acquired a qualification through this scheme, many of whom have also founded their own businesses and in turn are willing to provide experience and employment for the next generation of Gaeltacht apprentices.  People get an opportunity to learn a new skill or trade or upskill and obtain an apprenticeship qualification recognised by the national Apprenticeship Council.  Qualifications are awarded at Level 6 upwards to degree standard in accordance with the national training framework Quality and Qualifications Ireland (QQI).
There is a variety of 59 different apprenticeships to choose from in 14 varied sectors, all recognised by SOLAS, which the Gaeltacht community can undertake as part of the Scholarship Scheme being offered by Údarás na Gaeltachta.
Apprenticeship Scholarships are available in the following sectors:
| | |
| --- | --- |
| ·         BioPharma; | ·         ICT; |
| ·         Construction; | ·         Logistics; |
| ·         Electrical; | ·         Motor; |
| ·         Engineering; | ·         Property Services; |
| ·         Finance; | ·         Sales, |
| ·         Hair; | ·         Arboriculture; |
| ·         Hospitality and Food; | ·         Recruitment. |
Although traditional trades such as plumbing, carpentry, mechanical and electrical are still very popular, in recent years there has been a significant uptake in modern apprenticeships as more people participate in apprenticeships in BioPharm, Engineering, Financial Services, Accountancy, Computing with an additional two new sectors included here Arboriculture and Recruitment.
Under this scholarship scheme, financial assistance is provided to the apprentice but also to the company/contractor he/she is employed by at various stages of the apprenticeship.  Support of over €2,000 is provided to a company/contractor who are willing to employ an apprentice throughout the apprenticeship period to support Gaeltacht applicants fluent in Irish in gaining a qualification in any one of the SOLAS accredited Quality Assured Apprenticeship Schemes.
Announcing the Scholarship Scheme Údarás na Gaeltachta's Chairperson Anna Ní Ghallachair said:
"We are extremely proud of this scheme and the people who have qualified in various trades over the past forty years.   The success of the scheme and our long-standing involvement with it indicates just how popular it is. There is a significant importance attached to the services provided by traditional Gaeltacht tradespeople to the public and this scheme also provides a practical route to achieve a successful career in more modern trades."
Údarás na Gaeltachta's Chief Executive Officer Mícheál Ó hÉanaigh stated:
"There are some fantastic companies operating in the Gaeltacht that were established by local people who completed apprenticeships with the support of Údarás na Gaeltachta. The organisation's long history with the scheme indicates its popularity and longevity. The Trade and Modern Apprenticeships give the Gaeltacht community the opportunity to undertake a broad range of careers, which strengthens and develops their skills, empowers them which adds to their Gaeltacht identity."
The summer call for applications for the Údarás na Gaeltachta Apprenticeship Scholarship Scheme 2021 is open until the 04/06/2021.  The scholarship scheme is open to a broad cross section of the Gaeltacht public with a minimum requirement for applicants to be 16 years of age and not in full time education.  Those interested in learning more regarding the Scholarship Scheme's eligibility criteria should visit www.udaras.ie and apply online.