Official Opening of gteic@ An Dromaid in Uíbh Ráthach in the Kerry Gaeltacht
gteic@ An Dromaid now part of the gteic digital network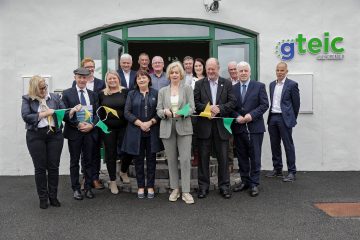 Údarás na Gaeltachta chairperson Anna Ní Ghallachair officially opened gteic @ An Dromaid in the Uíbh Ráthach Gaeltacht in Co. Kerry today.
This digital centre is an integral part of the gteic network, a network of over 30 integrated innovative digital hubs, with highspeed broadband, being developed by Údarás na Gaeltachta in Gaeltacht areas throughout the country.
The chairperson said:
"This new gteic is testament to the work which has been done in the last number of years by Gaeltacht community groups, on behalf of their local areas and their language. Údarás na Gaeltachta is very happy to be in  a position to enable them achieve their goals."
Údarás na Gaeltachta chief executive, Mícheál Ó hÉanaigh said:
"It gives us great pleasure to be in partnership with the community of An Dromaid in developing this project, gteic@AnDromaid, a digital hub which will be an important part of the Gaeltacht Digital Network.  There is a long history of community development work in An Dromaid agus this gteic is the most recent example of the community projects they have developed to the benefit of the local populace. This hub will be of great benefit to the local community, as a centre for entrepreneurs and for remote workers, It will also be an important facility for the provision of services to the local community"
There are nine desks for remote workers available in the hub as well as access to the centre's other amenities, including a meeting room, kitchen and shared workspaces.
This hub will be available to members of the local community and to businesses and it will provide facilities for remote working in an area in which the local community are striving to combat rural depopulation in creative and innovative ways.
Údarás chairperson Anna Ní Ghallachair also launched The Interim Report of Tascfhórsa Uíbh Ráthaigh, an account of the progress made by the taskforce in 2020 and 21; the taskforce is a cross-sector group, founded to engage with the economic and social challenges faced by the community of the Uíbh Ráthach Gaeltacht and the surrounding area, challenges brought about by the continuous fall of the local population in recent years.
Mícheál Ó hÉanaigh, Údarás chief executive said:
"Tascfhórsa Uíbh Ráthaigh have undertaken extremely important and worthwhile work in the last number of years. Significant progress has been made in a wide range of projects, as is evident from this report. I am extremely grateful to the community of Uíbh Ráthach and to all the groups and organisations who have assisted in preparing and implementing the plan for this local area."