New gteic hub opens in the heart of the Conamara Gaeltacht
gteic@Ceantar na nOileán will promote new business, the community and the language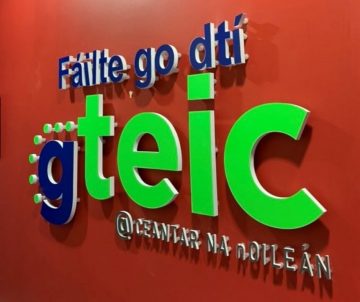 The newest innovation and digital hub in the Gaeltacht gteic network, gteic@Ceantar na nOileán, will be officially opened by Anna Ní Ghallachair, Údarás na Gaeltachta Chairperson in Leitir Móir, Co. Galway today (5pm, 28/10/2021).  This hub, which will encompass 13 workspaces across 3 separate rooms, will provide significant opportunities for entrepreneurs, new businesses, remote workers and the local community.
gteic@Ceantar na nOileán is part of a network of 31 innovation & digital hubs with highspeed broadband being developed by Údarás na Gaeltachta in locations throughout the Gaeltacht.   It is a state-of-the-art innovation & digital hub located on Tír an Fhia Business Park in the heart of the Conamara Gaeltacht, where the unique Gaeltacht culture drives creativity and innovation.
gteic@Ceantar na nOileán will provide up to 13 workspaces between hot desks and shared workspaces, high speed broadband connectivity, telephone booths and shared access to the facilities and services of Muintearas Teo. within the same building.
A unique aspect of the Gaeltacht Digital Network is that it is being developed in conjunction with the local communities in many of these rural areas.  Muintearas Teoranta will operate and manage gteic@Ceantar na nOileán on behalf of Údarás na Gaeltachta and as a result there will be an particular emphasis on training in the hub.  gteic@Ceantar na nOileán will bolster business and training courses also, which are at the heart of the core function of Muintearas Teo. for the past four decades.
In officially opening the facility Anna Ní Ghallachair, Chairperson of the Board of Údarás na Gaeltachta said:
"I am delighted to be here in Ceantar na nOileán today to officially open gteic@Ceantar na nOileán.  The digital hub is a wonderful addition to this vibrant Gaeltacht area.  Along with Muintearas Teo, who will run it, the hub will play a huge part in the community's life.  It will provide people with an opportunity to return home to support their community and their language.   The hub will provide opportunities for local businesses and entrepreneurs and encourage people to set up businesses in this Gaeltacht area.  Over the past year or so we have witnessed how beneficial these hubs are to remote workers and communities and have been a great support and assistance to essential services, new businesses and local people."
Mícheál Ó hÉanaigh, Údarás na Gaeltachta's Chief Executive Officer also added:
"Údarás na Gaeltachta is very proud that this wonderful, modern, innovative and appealing hub in the gteic network has been officially opened.  This development is a vital part of Údarás na Gaeltachta's 2021 – 2025 Strategy.    gteic@Ceantar na nOileán will stimulate job creation, assist remote working, and encourage and enable the return of the Gaeltacht Diaspora."
gteic@Ceantar na Oileán is the fifth digital hub to open in the Galway Gaeltacht which will provide over 180 workspaces in total when COVID-19 restrictions ar lifted.