New gteic digital and innovation hub to reinvigorate Oileán Acla (Achill Island)
gteic@Acaill to provide opportunities for new business and remote working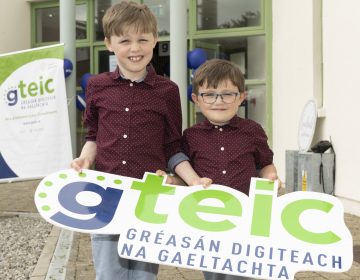 A new state-of-the-art innovation and digital hub gteic@Acaill will be officially opened on Oileán Acla (Achill Island) today (12/07/2021) which will provide the picturesque west Mayo Gaeltacht island with significant opportunities not only for entrepreneurs, new businesses and remote workers but also for staycations or relocations!
Government Chief Whip and Minister of State for the Gaeltacht and Sport, Jack Chambers T.D., accompanied by Údarás na Gaeltachta Chairperson, Anna Ní Ghallachair, will cut the ribbon on the 305 sq metre hub which will form part of gteic Gréasán Digiteach na Gaeltachta (Gaeltacht Digital Network) a network of 31 innovation & digital hubs with high speed broadband being developed by Údarás na Gaeltachta in locations throughout Ireland's Gaeltacht Areas.
gteic@Acaill will provide up to 40 desk spaces between hot desks/coworking spaces and private offices in an open and creative workspace and will also provide gigabit enabled broadband, meeting and video conferencing facilities, phone booths and shared creative spaces. There are already two companies and a number of individuals operating from the hub which represents a mixture of self-employed people and remote workers. The upcoming holiday period will provide distinct opportunities for people to extend their staycations in the area using the excellent facilities at gteic@Acaill.
The facility was developed by Údarás na Gaeltachta with funding from the Rural Regeneration and Development Fund and it will prove to be an important catalyst for this rural area in line the strategies and objectives of the national Our Rural Future policy which outlines a vision for a vibrant and sustainable rural Ireland.
The growing gteic digital ecosystem is providing an excellent opportunity for new technology companies to establish or locate themselves in the rural areas which encompass the Gaeltacht and for their employees to enjoy the excellent work life balance that picturesque areas such as Oileán Acla can offer. A unique aspect of the gteic network is that they are being developed and operated on a collaborative basis with the local community in these rural areas. gteic@Acaill will be operated by Comharchumann Forbartha Áitiúil Acla (the local community development organisation) on behalf of Údarás na Gaeltachta.
In officially opening the facility Government Chief Whip and Minister of State for the Gaeltacht and Sport, Jack Chambers T.D. said:
"I am delighted to be in Achill opening the gteic hub today. The digital hub is a great facility for the area. It will provide opportunities for local businesses and entrepreneurs and encourage people to think about returning to the area or setting up a business here. This type of development is very timely with the new possibilities that have arisen for remote work."
The Minister for Rural and Community Development Heather Humphreys T.D., commented on the new hub:
"I am extremely pleased that the gteic facility has been opened in Acaill with the support of RRDF funding approved by my department. In extending my congratulations to Údarás na Gaeltachta I look forward to our continued cooperation in the implementation of Our Rural Future policy in rural areas throughout the country.  This facility will provide new and exciting opportunities for Acaill and it epitomises the opportunities that investment in rural areas provides. High quality digital connectivity offers an unprecedented opportunity to transform rural Ireland and the gteic network and Connected Hubs initiative will assist in realising this objective."
Mícheál Ó hÉanaigh, Údarás na Gaeltachta's Chief Executive Officer also added:
"Údarás na Gaeltachta is delighted to have developed this modern, innovative and attractive hub in our gteic network with the significant assistance of RRDF funding. gteic@Acaill is the first new hub to open following the recent lockdowns and restrictions and is part of a growing and vibrant network of high speed broadband facilities we are developing in rural Gaeltacht areas which will stimulate job creation, assist remote working, encourage and enable the return of Diaspóra na Gaeltachta, facilitate concept development and new business and will also develop a community of hubs where the unique Gaeltacht culture drives creativity and innovation."
gteic@Acaill represents one of five gteic digital hubs that are being completed by Údarás na Gaeltachta in the Mayo Gaeltacht with the assistance of RRDF funding. It is hoped the easing of COVID-19 restrictions that final building works on gteic@An Eachléim, gteic@An Corrán Buí will be completed in the coming weeks and gteic@Gaoth Sáile by year end.
gteic@Béal an Mhuirthead opened in 2018 and is a hive of activity for established businesses and a number of new start-ups also.