Money approved for new gteic for Toraigh and Málainn Bhig
Funding for new gteic digital hubs on two islands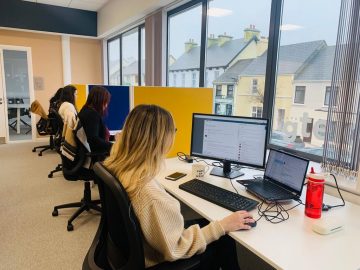 At its monthly board meeting, convened recently on Toraigh, Údarás na Gaeltachta approved funding for a new gteic digital hub on Toraigh, which will be developed adjacent to the island's Community Centre.  The project is being developed by the island's Community Co-operative, Comharchumann Thoraí Teo. The gteic will offer shared workspace which will be attractive solution to start-up enterprises and remote workers, particularly in light of the unprecedented growth of remote-working in recent years.
The facility will also be available as a community space and meeting centre.
An tÚdarás also approved funding to Coiste Forbartha na Málainne Bige to enable them to develop a digital hub in Seanscoil na Málainne Bige in Gleann Cholm Cille. This investment has been approved as co-funding to the project which is being delivered in partnership with Donegal County Council.
The digital hubs will extend the gteic network, a network of over 30 integrated innovative digital hubs, with highspeed broadband, being developed by Údarás na Gaeltachta in Gaeltacht areas throughout the country.