Major US Multinational adds Medical Devices Company in An Spidéal to its global team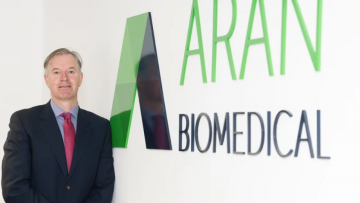 Gaeltacht based Aran Biomedical Teo, an Údarás na Gaeltachta client company located in An Spidéal, Co. Galway, has been acquired by Integer Holdings Corporation, one of the largest medical device outsource (MDO) manufacturers in the world serving the cardiac, neuromodulation, vascular, portable medical, advanced surgical and orthopaedics markets.
Aran Biomedical Teo, which specialises in the custom design, development and manufacturing of medical implants confirmed the acquisition by Integer.  The amalgamation of both companies will enable Integer to better serve its customers and continue significant growth in the Conamara Gaeltacht of An Spidéal.
Through continuous innovation Aran Biomedical has developed a biomaterial product and the tireless efforts of the company and its employees has seen exponential development and expansion in the company.  The acquisition will help to ensure the very best in medical devices are being developed and manufactured here on the edge of Europe.
Operations will be maintained at the facility in An Spidéal where it is envisaged that with Integer's global presence and end-to-end design, development and manufacturing capabilities, the combined company will be able to accelerate growth and address evolving needs in the structural heart, peripheral vascular, neurovascular, endovascular and urology medical devices spaces.
With a rich history of innovation that dates back to the 1940s, Integer is a world leader in advanced medical device design and outsourcing serving cardiac rhythm, cardio and vascular health, neuromodulation devices, and custom medical battery packs and chargers for global OEMs. The company currently employs 1,300 people at its facilities in Parkmore, Galway and Wexford and has a global workforce of 9,000 through its sites in Europe, North America, South America, the Middle East and Asia.
Anna Ní Ghallachair, Chairperson of the Board of Údarás na Gaeltachta welcomed the acquisition:
"On behalf of the Board of Údarás na Gaeltachta I would like to congratulate Aran Biomedical on this exciting development and extend a warm 'Céad Míle Fáilte' to Integer.  Aran Biomedical has witnessed many advances since its arrival in An Spidéal and this will undoubtedly be a very exciting and worthwhile development."
Peter Mulrooney, Aran Biomedical CEO, added:
"We are very excited and proud to be joining Integer, one of the largest medical devices outsource manufacturers in the world. Combining Aran Biomedical's proprietary biomaterial implant technologies with Integer's world class delivery systems will lead to a more highly differentiated service offering to the medical device industry."
Integer President and CEO Joe Dziedzic said:
"The acquisition of Aran Biomedical is entirely aligned with our strategy to expand our presence in high growth markets. Aran brings subject matter expertise and highly differentiated implant technology solutions to our portfolio. Their innovation, capabilities, and values are a perfect complement to Integer's, and we are thrilled to welcome Aran Biomedical's associates to the Integer team.  Coupling technology solutions and expertise with Integer's leadership in delivery systems and manufacturing scale will bring an unparalleled ability to meet our customers' needs and be their partner of choice for developing the next generation of lifesaving and life-enhancing medical devices."
Údarás na Gaeltachta's CEO Mícheál Ó hÉanaigh stated:
"Údarás na Gaeltachta welcomes this exciting news for Aran Biomedical. They have been an important client company located in the An Spidéal Gaeltacht for the past few decades and will continue to be so under Integer. Integer is committed to the An Spidéal area as a critical technology centre for the broader company and we look forward to partnering with them as they develop their long-term plans in the region. Aran Biomedical has gone from strength to strengthen and its quality products and staff has been vital in attracting this type of global investment to the Conamara Gaeltacht."