Language, Tourism and Sustainability to revitalise An Cheathrú Rua
Action Plan launched with 55 recommendations over 7 themes that will create 300 jobs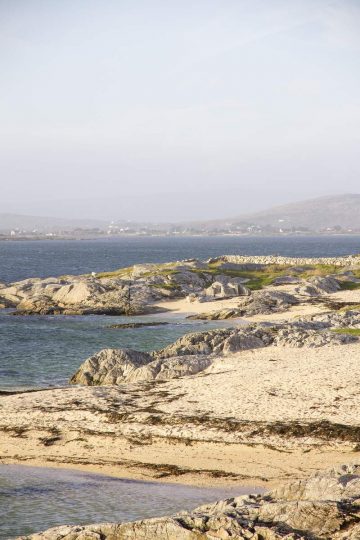 The An Cheathrú Rua 2021-2026 Action Plan will be published today (27/09/21) which looks to revitalise An Cheathrú Rua and advance the area as a place to live, work and visit.   This ambitious plan has been published by Comharchumann Mhic Dara in association with Údarás na Gaeltachta and will be officially launched by Údarás na Gaeltachta Board Member Mary Uí Chadhain, at an event in the heart of the Gaeltacht village today.
The plan sets out 55 recommendations under 7 various strategic themes:
Language & Culture,
Tourism,
Enterprise,
The Arts,
Services & Infrastructure,
Marketing,
Policy, Process & Targets.
These themes have various aims and actions, but the principal aim of this action plan is to create a strong community, with excellent services with the Irish language at its core.   Job creation comes from development, and a study in the plan in relation to the ability to create jobs indicates that more than 300 new sustainable jobs will be created if this plan is developed successfully to completion.
The Plan's Main Objectives
Language & Culture
To establish a World Centre for Irish in An Cheathrú Rua,
To have An Cheathrú Rua officially named as

A Gaeltacht Service Town,
The main Gaeltacht village in Conamara,

Establish a centre for translation and State services through Irish in An Cheathrú Rua.
Tourism
Build on the significant tourism resource that is Trá an Dóilín,
See the development of walkway and cycle ways along with green and blue ways,
Develop cultural tourist experiences which will attract 100,000 visitors.
Enterprise
Create and cultivate a community of entrepreneurs in An Cheathrú Rua,
Develop the second stage of the community photovoltaic solar panel project in the area,
Compile a strategic plan for the development of the business parks in An Cheathrú Rua and Casla.
The Arts
Include a Centre for Irish Language Art in the World Centre for Irish.
Services & Infrastructure
Develop a proper sports centre with a pool in An Cheathrú Rua,
Seek to develop the entire peninsula as an outdoor recreational centre with walking, running and cycling loops, with a blue flag on all beaches in the area.
Marketing
Establish a national campaign to attract people to An Cheathrú Rua.
This strategic development plan was compiled for An Cheathrú Rua by Comharchumann Mhic Dara, with the support of Údarás na Gaeltachta and Hosty Consulting.  The process included 58 participants which included local businesspeople, members of the local community and various local and State organisations.
When referring to the Action Plan Seán Ó Domhnaill the Manager of Comharchumann Mhic Dara said:
"An important step in the future of An Cheathrú Rua has been taken today.  Progress can't be achieved without a plan, and we have compiled a strategic plan with the community's support which depicts an ambitious vision for An Cheathrú Rua as a vibrant Gaeltacht community for the next generation.

We thank Údarás na Gaeltachta for its support in preparing this plan and we look forward to implementing the plan alongside the organisation in the coming years."
Confirming Údarás na Gaeltachta's support in relation to the plan Chief Executive Officer, Mícheál Ó hÉanaigh said:
"Údarás na Gaeltachta welcomes the Action Plan for An Cheathrú Rua and we will cooperate closely with Comharchumann Mhic Dara and the community in the area regarding its implementation.  In addition, we support the collaborative and cross-departmental approach set out in the Plan which will intensify language, cultural, enterprise and community affairs in the area.  An Cheathrú Rua is an important area in terms of language and enterprise with many opportunities to be seized in the village over the coming years.  The strong foundation laid in the area and the implementation of this ambitious plan will assist the area in bringing this vision to life."
ENDS
A copy of the plan can be downloaded from www.ancheathrurua.ie or www.udaras.ie  (https://udaras.ie/assets/uploads/2021/09/Plean-Gníomhaíochta-na-Ceathrún-Rua-1.pdf)