Kerry Entrepreneurs vow to captivate European Competition with innovative tales of Irish Mythology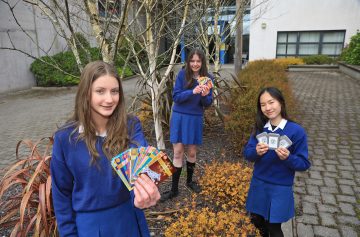 Three young entrepreneurs from the Corca Dhuibhne Gaeltacht are aiming to put Europe under their spell next week using Irish mythology to create a winning magic formula at the JA Europe Company of the Year Competition.
'Cártaí Feasa' was established by Sibéal Ní Ógáin, Aoife Feirtéar and Caoimhe Ní Bheaglaoich from Pobalscoil Chorca Dhuibhne in Co. Kerry and the young west Kerry entrepreneurs will represent Ireland at the JA Europe Company of the Year Competition which is being hosted virtually by JA Lithuania and which runs until July 15th.  This is the third time that the winners of Údarás na Gaeltachta's Clár na gComhlachtaí entrepreneurship competition will have the opportunity to participate at the European level of the competition.
Cártaí Feasa is an innovative greeting card mini company telling the story of Irish folklore tales but the QR code on the back of each card whisks the user to another world online where the stories can be accessed in Irish and English.  The Corca Dhuibhne entrepreneurs fought off stiff opposition from more than 600 transition year students from Gaeltacht schools in Donegal, Mayo, Galway, Kerry Cork, Waterford and Meath to scoop the national Údarás na Gaeltachta Clár na gComhlachtaí competition in April. The national final, also held online due to COVID-19 restrictions, gave Cártaí Feasa valuable experience in competing in a virtual environment and they managed to come out on top based on the quality of their innovative business idea and overall performance on the day.  The successful company from Pobalscoil Chorca Dhuibhne were mentored by their business studies teacher Trish Uí Éanacháin who helped them to develop their business idea along with support from Údarás na Gaeltachta and Junior Achievement Ireland executives.
Public Choice Award
Cártaí Feasa is also eligible for the Public Choice Award, which will be decided through an online public vote here https://jaeurope.submittable.com/gallery/de2cc07e-c9f0-4f73-b306-3f476b44daac/20598661/.  The voting will remain open until 6pm on July 13th where the public can vote early and often for the West Kerry entrepreneurs!
During the course of the virtual European Final Sibéal, Aoife and Caoimhe will present their product, company, progress and plans to the judges and to other competing junior entrepreneurs from other EU member states.
Mícheál Ó hÉanaigh, Chief Executive Officer with Údarás na Gaeltachta, commented:
"Údarás na Gaeltachta is proud to be sending a team of the calibre of Cártaí Feasa to Europe not only to represent Ireland whilst showcasing Irish folklore tales but also to represent our unique Gaeltacht areas.   It is inspiring to witness such enterprising young people participate at the Údarás na Gaeltachta Clár na gComhlachtaí 2021.  Their knowledge and enthusiasm for their business ideas indicates that future entrepreneurship in the Gaeltacht is safe. We wish Sibéal, Aoife and Caoimhe and everyone at Pobalscoil Chorca Dhuibhne the very best of luck".
Helen Raftery, CEO of Junior Achievement Ireland added:
"The last 18 months have been incredibly challenging, but this period has also given our second level students the chance to show us that they have the determination and ingenuity to overcome any obstacle.  Cártaí Feasa from Pobalscoil Chorca Dhuibhne, Kerry won the national title this year and we wish Aoife, Caoimhe and Sibéal all the best as they compete against teams of student entrepreneurs from 40 other countries in the JA Europe Company of the Year Competition 2021.

 Working in collaboration with schools in the Gaeltacht areas and with the support of Údarás na Gaeltachta more than 600 senior cycle students acquire entrepreneurial experience through Clár na gComhlachtaí annually. We are grateful to the teachers, principals, families, and business mentors involved for their support in developing the entrepreneurial talent of these students. The wide-ranging skills these young entrepreneurs have developed and practised throughout Clár na gComhlachtaí will be invaluable as they progress into the world of work".