Ice Cream Kings of Kerry to undertake significant developments with the support of Údarás na Gaeltachta
Murphy's Ice Cream to create 15 new jobs with redeveloped manufacturing space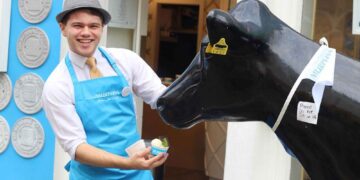 The Board of Údarás na Gaeltachta has approved a support package for the famous ice cream company Murphy's Ice Cream in Corca Dhuibhne which will assist the company in developing new products and create 15 new jobs in the 5 years ahead.
As part of the proposed development by the company a new premises will be redeveloped for the project at Páirc Ghnó Bhaile na Buaile in Daingean Uí Chúis/Dingle where they are currently located in three separate units. The new facilities will provide the company with a high-quality increased manufacturing space and will resolve space limitations the company has had in recent times.
Murphy's Ice Cream is a very well-known brand and thousands of visitors to Daingean Uí Chúis/Dingle get to taste their natural ice cream. The company has grown in recent years and has outlets in Daingean Uí Chúis/Dingle, Killarney, Galway and Dublin. Brothers Ciarán and Seán Murphy, originally from the United States, established the business about 20 years ago. The Murphy family opened a café in Daingean Uí Chúis/Dingle in 200 and began manufacturing ice cream as Milseoga Uí Mhurchú Teoranta (Murphy's Ice Cream) in 2004 with Údarás na Gaeltachta's support. They have garnered significant attention for their fantastic ice cream products since then and have received numerous awards.
Údarás na Gaeltachta supports the manufacturing side of the business, and even with the challenges presented by the COVID-19 pandemic, this is where the company has proposed substantial development with the hopes of developing new products and accessing new markets.
Announcing the new package Anna Ní Ghallachair, Chairperson of the Board of Údarás na Gaeltachta said:
"On behalf of the Board of Údarás na Gaeltachta, I congratulate Murphy's Ice Cream on the commitment and innovation they have shown in facing the challenges posed by the COVID-19 pandemic. This company has an excellent product made from high quality ingredients traditionally available in their own locality. We are delighted to be able to support the growth and development of this small indigenous enterprise."
Údarás na Gaeltachta's CEO, Mícheál Ó hÉanaigh, stated:
"The investment being made by Údarás na Gaeltachta and Murphy's Ice Cream themselves in the project is a resilient step forward for the company and will assist with consolidating current employment and growing it further in the future. The Food & Drink sector has made significant progress with the support of Údarás na Gaeltachta and now excellent Gaeltacht food products are carving a niche for themselves in national and international markets. Údarás will continue to support this sector in the Gaeltacht in the years ahead."
As a result of this development Murphy's Ice Cream hopes to create new jobs in a range of areas such as Research and Development, Production Management and Production Operatives, Digital Marketing, Quality, Business Development, Standards & Health and Supply Chain Management.
The new space to be redeveloped for the company intends to house administration offices for management, sales and administrative teams, gowning and washing areas for manufacturing staff, two food manufacturing spaces with floors, walls and ceilings of a food manufacturing standard, two freezer/product chilling rooms, packaging and storage spaces as well as new entrances. An application for planning permission will be completed in the months ahead and subsequently a tendering process will be initiated for the construction element of this substantial development.