Home is where the heart is, it also fuels a passion for business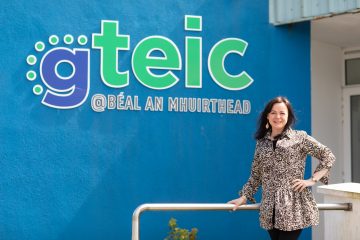 The COVID-19 pandemic has opened peoples' eyes to what the Gaeltacht can provide, creating opportunities, even in challenging circumstances, for those who wish to avail of what this country can offer.  Marie Sweeney Khalifa, one of gteic@Béal an Mhuirthead newest clients tells a personal story that resonates with many others:
"Moving home to Ireland was a hard decision for us as life in UAE was very comfortable. We had great jobs, a good lifestyle and good friends, but we felt that something was pulling us to Ireland.  We arrived back in July 2019 and set up our business in October. In March 2020 the world went into lockdown, which was an extremely difficult time for everyone. At that time, I began to reflect and appreciate what I had around me."
Ireland and the west in particular have been synonymous with emigration, in years gone by its rugged landscape and lack of infrastructure often meant people had to go in search of a living abroad.  This may no longer be the case but those who do go in search of adventure often tend to return when the pull of home and family takes hold.
"Suddenly the pull to Ireland was so obvious.  We had family, friends, a business and all the outdoor space in nature that we could want.  The fact that we live so close to the beach, the hills, the rivers and lakes, is something that I will never again take for granted.  For me, living in the West of Ireland, in the beauty of the countryside was where I found a peace and contentment, that provided me with the wellbeing I sought in those days."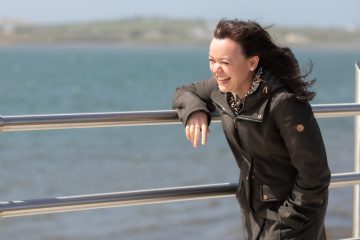 Marie Sweeney Khalifa was born in Bangor-Erris, Co. Mayo.  She is a Mindset and Education Coach and her business, The Educoach, was established by herself and her husband in 2019 and is now housed in the gteic@Béal an Mhuirthead building in the Mayo Gaeltacht.
"Growing up, my parents had a work ethic that I always admired, nothing was ever too much trouble for them.  As a result, my siblings and I all worked very hard, and from the age of 12 years, we had weekend jobs.  I always dreamed of one day setting up my own business. Thankfully that dream became a reality in October 2019, when my husband and I returned to Ireland after spending some years living in The United Arab Emirates."
People availing of remote working facilities from gteic units around the Gaeltacht areas state how working from their hometowns or relocating to these rural villages has enhanced both their personal and business lives.  This is a testament as to how the gteic network has enriched Gaeltacht areas particularly in the past year or so.
"During the first year and a half, I worked from home. It was challenging to maintain the motivation and resilience that setting up a business requires.  But in April 2021, I was given an opportunity to have a workspace in Béal an Mhuirthead, Co. Mayo.  This was in the gteic building that I had only recently discovered. It offered me the space and the drive to keep building my business.  There are other fantastic businesses in gteic@Béal an Mhuirthead, ideas are being shared constantly and social connections are generated.  It is a space that is comfortable and inviting, exactly what I need for myself and my clients and I am grateful to be working from such a fantastic space."
Marie Sweeney Khalifa is the founder of The Educoach, a Mindset and Education Coaching business located in gteic@Béal an Mhuirthead which is located on the Iorras Peninsula in the Mayo Gaeltacht. www.educoachireland.com