gteic - a Gaeltacht game changer
Looking for a remote working space? Mícheál Ó hÉanaigh, CEO of Údarás na Gaeltachta, tell us it's time to look in the Gaeltacht regions.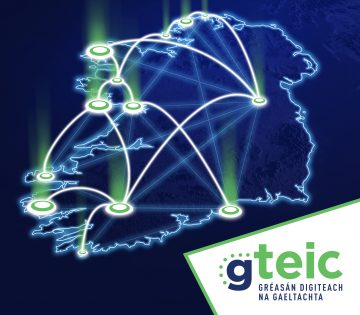 If you picture Ireland's biggest digital hub network, you probably associate it with busy urban locations, crammed spaces and congestion.
So it might come as a surprise to hear that the largest remote and co-working network in Ireland is not located in Dublin, Cork or Limerick, but in some of the most beautiful and remote Gaeltacht regions in Ireland.
With over 30 gteic digital hubs providing over 700 workspaces planned for the Gaeltacht, 18 hubs are already open or on the cusp of opening, making gteic the biggest such network in Ireland by a considerable margin.
gteic, as a concept, was launched by Údarás na Gaeltachta in 2018, prior to the Covid-19 pandemic and the accompanying new focus on remote rural working. Údarás is responsible for ensuring a thriving Gaeltacht community and the thinking behind providing a network of digital work spaces in the Gaeltacht was to provide spaces for start-ups, concept developers and remote working facilities for people who want to live in the Gaeltacht.
Forged links worldwide
The gteic network is made up of 31 digital hubs of various sizes located in all Gaeltacht regions, from the very north of Donegal to Cape Clear off the Co. Cork coast. gteic hubs are tailored to suit each unique location, offer high quality office spaces, include hot desk and shared space facilities for remote workers and eworkers in addition to fully equipped office spaces and incubation units with excellent broadband connectivity to facilitate innovation and concept development.
These hubs facilitate people who wish to develop a business concept, grow their start-up and also provide access to Údarás na Gaeltachta's range of mentoring and business supports.
"The gteic network is a gamechanger for Gaeltacht areas and communities," says Mícheál Ó hÉanaigh, CEO of Údarás na Gaeltachta. "Ireland's Gaeltacht Areas have the potential to provide businesses of all types with a perfect base from which to be connected with the world while enjoying world class worklife balance for their employees."

"Our gteic network of digital &innovation hubs have forged links worldwide through the fantastic companies that have set up and relocated there and Údarás na Gaeltachta will continue to support and develop this burgeoning digital ecosystem. The gteic network eliminates any perceived obstacles to living in the picturesque rural areas of Ireland and connecting with people and businesses worldwide."
Údarás na Gaeltachta is the state development agency with responsibility for the economic, social and cultural development of Ireland's Gaeltacht regions. The Údarás na Gaeltachta strategy is focused on employment creation in Gaeltacht regions, on community development and the preservation of Irish as a community language.
Údarás places a strong emphasis on the sustainable development of the region's natural resources and on promoting innovation and creativity in projects and communities throughout the region. It has developed and is promoting a unique Gaeltacht brand 'Gaeltacht na hÉireann'.
An opportunity of improved worklife balance is not the only benefit of gteic membership! A reciprocal arrangement agreed with the Guinness Enterprise Centre in Dublin means that any member of the GEC can avail of the gteic facilities anywhere along the network and members of the gteic digital community can avail of the facilities in GEC in Dublin free of charge.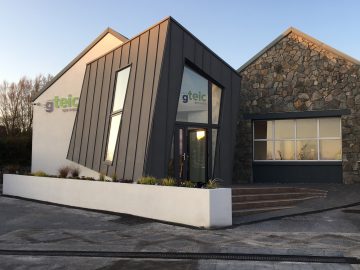 Business minded work environment
Some studies with remote workers have shown that the speed of the broadband or avoidance of commute are not necessarily the main or only requirement of remote workers. It is often cited that a business minded work environment, a place to connect with other people and avail of new opportunities and a good atmosphere are most important in coworking spaces.
"The wide range of businesses operating successfully throughout the Gaeltacht region and especially within our gteic network, are testimony to the fact that Businesses can thrive in these regions. Working at world-class standard producing products and services that are exported all over the world," Mícheál Ó hÉanaigh added. "We would like to invite people to be part of our ever-growing network of entrepreneurs, innovators and remote workers who are operating in our gteic network with world-class facilities and excellent connectivity in all parts of our culturally vibrant Gaeltacht region. The gteic network will be central to providing opportunities for remote working, especially for the Gaeltacht diaspora looking to return home after the pandemic. "