Gaeltacht product takes centre stage in the White House
Crystal bowl made in Waterford Gaeltacht presented to Joseph R. Biden Jr.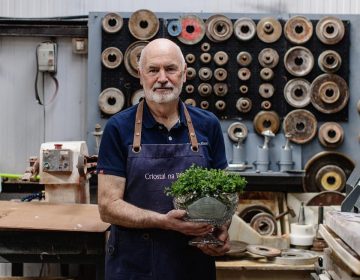 Údarás na Gaeltachta would like to congratulate Criostal na Rinne, who have received wide-spread coverage recently, as a crystal bowl made in their premises in An Rinn, Co. Waterford was part of a long-standing tradition between this country and the United States of America on March 17th.  Údarás na Gaeltachta is delighted to support this Gaeltacht company and its endeavours.
The crystal bowl was sent to 1600 Pennsylvania Avenue as part of a long-standing tradition associated with St. Patrick's Day when a crystal bowl of shamrocks is presented to the President of the United States.
Eamonn Terry, owner of Criostal na Rinne, designed and handmade the crystal bowl.  The bowl represents hope, history and the special relationship both nations share.  Eamonn learned his craft in the renowned Waterford Crystal company before establishing his own business Criostal na Rinne in 1987.