Gaeltacht Minister for State to officially open three new Údarás na Gaeltachta projects during his visit to Conamara, Dúiche Sheoigheach and Inis Mór
Jack Chambers, T.D. will this week officially open two new digital hubs in the Galway Gaeltacht & Fotavoltaic Project developed by Comharchumann Pobail Mhic Dara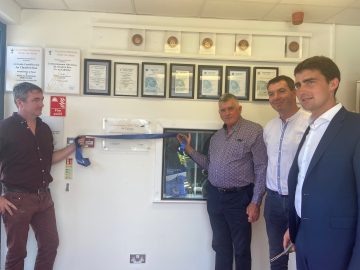 Chief Whip and Minister for State for the Gaeltacht & Sport, Jack Chambers, T.D. will this week officially open two new digital hubs in the Galway Gaeltacht. The Minister will first visit Corr na Móna on Thursday, 10th August, where he will officially open gteic@Corr na Móna, developed by Údarás na Gaeltachta, and under the management of the local Co-Op, Comharchumann Dhúiche Sheoigheach. This is the 23rd digital hub developed by Údarás na Gaeltachta as part of their gteic network, a network of over 30 integrated innovative digital hubs, with highspeed broadband, being developed by the Údarás in Gaeltacht areas throughout the country.
Minister for State Chambers will head to Carna on Friday morning at 9am, where he will be meet with the steering committee of Ionad Cuimhneacháin na nImirceach (The Emigrant Commemorative Centre) to see the developments taking place in the centre and to be informed of their future plans, aimed at making the facility an attractive and welcoming focal point for tourists in the Connemara area, and enhancing its potential, through the development of an Interpretative Centre and Emigrant Memorial Garden.
From there, the Minister will travel to An Cheathrú Rua, where he will be officially launch the Fotavoltaic Project developed by Comharchumann Pobail Mhic Dara, who are currently implementing a comprehensive and innovative Renewable Energy Strategy in partnership with Údarás na Gaeltachta and the LEADER programme, through Fóram Chonamara CLG.
The Minister will then cross the sea to Inis Mór; there, he will officially open the island's new gteic, gteic @Árainn, managed by the island Co-Op, Comharchumann Forbartha Árainn – this is the second gteic in the Aran Islands, joining the gteic @Inis Meáin, opened by the minister some months ago.