Gaeltacht Food & Drinks products scoop 22 Blas na hÉireann awards
Excellent Gaeltacht Food and Drink products recognised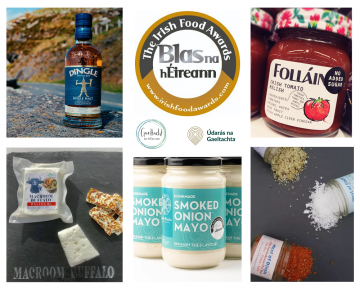 Various Gaeltacht food and drink companies, client companies of Údarás na Gaeltachta, have won 22 awards at the prestigious Blas na hÉireann 2021 competition.  This success recognises the quality of food and drink products being produced in Gaeltacht areas in particular.  Údarás na Gaeltachta congratulates the companies who won gold, silver and medal and other Gaeltacht companies who were shortlisted for this respected annual event.
Údarás na Gaeltachta has supported the Blas na hÉireann awards for many years and is very pleased to have provided sponsorship to the awards during that time.  The food and drink sector is an important sector for the Gaeltacht and an area which has seen substantial development over the past 40 years as a result of the dedication of Gaeltacht producers and Údarás na Gaeltachta's continuous support.  High quality Gaeltacht products are gaining national and international recognition and are establishing themselves as strong international brands.
Údarás na Gaeltachta sponsors the Blas na hÉireann Rogha na Gaeltachta 2021 award, which was won by West of Dingle in Baile an Fheirtéaraigh.  Brian Farrell and his team deserve high praise for their flavoured salt.  Their various other salts also won gold medals in other categories.
Another company from the Daingean Uí Chúis area won both gold and silver awards for their beef and lamb cuts of meat.  Kennedy's Butchers is a craft butcher shop in the village which produces the very best in meat products.  Cácaí Acla which is located in Acaill, Co. Mayo also won the bronze award for their cherry scones in the Breads & Cakes category, a wonderful achievement for this Gaeltacht company.
Folláin Teo from Baile Bhuirne in County Cork is well accustomed to winning awards at the Blas na hÉireann awards and this year collected 8 awards for various fantastic products produced by them in the Muscraí Gaeltacht. Congratulations to the Ó Lionáird family and for the continued progress of their products in Baile Bhuirne.  The Macroom Buffalo Mozzarella company has also made huge strides in a relatively short space of time with products made from their herd of water buffalo in Maigh Chromtha winning gold and silver awards.  The Lynch family business is going from strength-to-strength year on year.
The Builín Blasta Café located in An Spidéal, Co. Galway is renowned for the meals and products produced there and this year saw their smoked onion may won a gold medal again.   Dingle Distillery's single malt whiskey won a silver award and a gin produced by Cape Clear Island Distillery won bronze in its drinks category.  When it came to shellfish the crab claws from Errigal Bay, a Gaeltacht company fishing out of An Charraig in Co. Donegal won the bronze.
Blas na hÉireann is an internationally accredited award and the award-winning products are of an extremely high standard.  The food and drink sector is the highest employer in the Gaeltacht with 17% of the employment or up to 1,250 employees at the end of 2020.  These companies are vital to the communities in which they operate and provide employment in many Gaeltacht areas in the country.  Many of these products are exported overseas, boosting the country's economy and recognising the excellent products made in the country and in the Gaeltacht.
Údarás na Gaeltachta's Chief Executive Officer, Mícheál Ó hÉanaigh said:
"It is evident that the food and drink products that Gaeltacht companies produce are second to none.  The companies work tirelessly on their various products in an industry which can be difficult to succeed in.   Our client companies West of Dingle, Kennedy's Butchers, Dingle Distillery, Errigal Bay, Cape Clear Island Distillery, An Builín Blasta, Cácaí Acla and Macroom Buffalo Mozzarella deserve a lot a praise and we congratulate them on their win.  We are very proud of our Gaeltacht client companies who endeavour to create and promote the best of Irish produce and the Gaeltacht brand at home and abroad."
 Our client companies and their awards:
| | | | |
| --- | --- | --- | --- |
| Client company | County | Award | Product |
| West of Dingle | Kerry | Rogha na Gaeltachta | Sea Salt |
| West of Dingle | Kerry | Best in County | Sea Salt |
| West of Dingle | Kerry | Gold – Seasonings | Old Smokehouse Dry Rub |
| West of Dingle | Kerry | Gold – Flavoured salt | Lemon and Rosemary infused sea salt |
| West of Dingle | Kerry | Gold – Salt | West of Dingle Sea Salt |
| Folláin | Cork | Silver – Chutney | Folláin Specially Selected Irish Chutney Tomato and Chilli Jam |
| Folláin | Cork | Gold – Dressing | Dunnes Stores Maple & Mustard Dressing |
| Folláin | Cork | Gold – Mustard | Folláin Signature Tastes Wholegrain Mustard |
| Folláin | Cork | Gold – Relish | Folláin Apple and Fig Relish |
| Folláin | Cork | Silver – Relish | Dunnes Stores Simply Better Irish Made Gherkin Relish |
| Folláin | Cork | Bronze – Relish | Folláin Irish Tomato Relish |
| Folláin | Cork | Silver – Savoury sauce | Dunnes Stores Korma Sauce |
| Folláin | Cork | Silver – Jelly | Dunnes Stores Simply Better Irish Made Redcurrant Jelly |
| Macroom Buffalo Mozzarella | Cork | Gold – Soft cheese | Macroom Buffalo Cheese Macroom Buffaloumi |
| Macroom Buffalo Mozzarella | Cork | Silver – Soft cheese | Macroom Buffalo Cheese Macroom Buffalo Bocconcini |
| Errigal Bay | Donegal | Bronze – Shellfish | Errigal Bay Frozen Brown Crab Claws |
| Dingle Distillery | Kerry | Silver – Dark spirits | Dingle Distillery Dingle Single Malt |
| Cape Clear Island Distillery | Cork | Bronze – White spirits | Cape Clear Island Distillery 3 SQ. MILES, Irish Coastal Gin |
| An Builín Blasta | Galway | Gold – Savoury sauce | Builín Blasta Teo Smoked Onion Mayo |
| Kennedy's Butchers | Kerry | Gold – Beef | Kennedy's Butchers Dingle Spiced Ribeye Ventry Beef |
| Kennedy's Butchers | Kerry | Silver – Lamb with flavour | Kennedy's Butchers Canon of Dingle Peninsula Lamb with Dingle Spices |
| Cácaí Acla | Mayo | Bronze – Breads & Cakes | Cherry scone |