Gaeltacht Food & Drink – 40 years of the finest produce to be celebrated at Údarás na Gaeltachta EXPO
A feast of Gaeltacht produce awaits at Gaeltacht Food & Drink EXPO 2020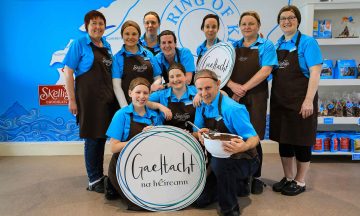 Gaeltacht Food & Drink products have garnered worldwide attention in recent years and the excellence of these products will be celebrated online during the Gaeltacht Food & Drink EXPO 2020 as part of Údarás na Gaeltachta's 40-year anniversary.
Over a two day period, October 27th & 28th 2020, the best in Gaeltacht food and drink will be highlighted and celebrated online in an innovative display of the significant progress made in the Food & Drink Sector in the Gaeltacht with the support of Údarás na Gaeltacht over the past 40 years.
There will be an opportunity, on Údarás na Gaeltachta's social media channels, to meet the producers, (virtually) taste the cookery demonstrations, learn amazing recipes, connect with the companies and purchase excellent produce.
Gaeltacht food and drink products are being sold in supermarkets, corner shops and online here at home and further afield also. From the fantastic Folláin jams in Cork, to seasoned Achill Island Seasalt. to Aran Islands Goat's Cheese on Inis Mór and the silken whiskey of Sliabh Liag Distillery in the Donegal Gaeltacht – it would be difficult to find better produce worldwide. It is clear from the national and international brands that have been created and developed by Gaeltacht Food & Drink producers that excellence can be achieved in this sector in Gaeltacht areas. Not only will the Expo highlight these strong brands, it will also afford the opportunity to smaller producers, who are starting out on their journey, to showcase their products to the public also.
Over 1,750 people or up to a quarter of the jobs supported by Údarás na Gaeltachta throughout the Gaeltacht are working in the food and drinks sector. It is obvious that the sector has a significant effect on the Gaeltacht and national economy, with sales of €160m annually in Food and Drink by Gaeltacht companies and €76m in exports. The sector supports a payroll of up to €30m and up to €108m of direct expenditure in the Irish economy. This is a significant investment by companies that are dedicated to continually improving and developing their businesses and products.
The Gaeltacht Food & Drink EXPO 2020 will give a 'taste' of the commitment, talent, huge efforts and progress that Gaeltacht products have made, products that are very popular which that have won awards here at home in Ireland and on the international awards scene also.
The Gaeltacht Food & Drink EXPO 2020 is one of a series of events that are underway to celebrate 40 years since the establishment of Údarás na Gaeltachta. Established in 1980 Údarás na Gaeltachta is the regional agency responsible for the economic, social and cultural development of Ireland's Gaeltacht Areas. Over the past forty years Údarás na Gaeltachta has supported the food and drink industry assisting businesses of all sizes in creating and marketing their products.
Mícheál Ó hÉanaigh, Chief Executive Officer, Údarás na Gaeltachta launching the Gaeltacht Food & Drink EXPO 2020 said:

"We are delighted, in these very difficult times, to have the opportunity to place an innovative focus on our client companies in the food and drink sector who are providing excellent produce worldwide for many years. The companies that have now developed international food and drink brands and also smaller companies whom we support to grow and develop are a significant source of pride for us and the Gaeltacht community. This is a very important sector for the Gaeltacht with nearly a quarter of the jobs we support involved in the food and drink sector.

The COVID-19 pandemic has highlighted the need to support indigenous produce of all types, and especially during lockdown measures where the emphasis on food and drink producers is clearer than ever with people doing their utmost to support Gaeltacht and Irish products.

The Gaeltacht Food & Drink EXPO 2020 will give the public, both at home and abroad, an opportunity to get to know Gaeltacht Food and Drink products and producers and it will give them a chance to get a virtual taste of the high quality produce available."
The Gaeltacht Food & Drink EXPO 2020 will be held online due to COVID-19 restrictions creating a fantastic opportunity for the public to connect directly with the people who create the wonderful produce on breakfast, lunch and dinner tables countrywide.
The Expo will be held on Údarás na Gaeltachta's social medias channels with up to 40 Gaeltacht companies from the food and drink sector highlighted to celebrate the support of Údarás na Gaeltacht to the sector over the past 40 years.
"Tá áthas orainn an deis a bheith againn fócas nuálach a chur ar ár gcliantchomhlachtaí in earnáil an bhia agus na dí atá ag soláthar táirgí den scoth ar fud an domhain le blianta fada. Cúis bróid dúinn na comhlachtaí a bhfuil brandaí idirnáisiúnta bia agus deoch forbartha acu anois agus chomh maith leis sin na comhlachtaí beaga a bhfuil muid ag tacú leo agus iad ag fás agus ag forbairt. Tá an-tábhacht ag baint leis an earnáil seo don Ghaeltacht agus beagnach an ceathrú cuid de na poist a dtacaíonn muid leo ag plé le cúrsaí bia agus deoch.

Le paindéim COVID-19 léiríodh an gá atá le hearraí dúchasacha de chuile chineál a cheiliúradh agus go háirithe le srianta dianghlasála tá níos mó béime ar chúrsaí bia agus deoch ná bhí riamh agus daoine ag déanamh a ndícheall tacú le táirgí Gaeltachta agus Éireannacha.

Tabharfaidh an EXPO Bia & Deoch Gaeltachta 2020 deis iontach don phobal i gcian agus i gcóngar aithne a chur ar tháirgí agus tháirgeoirí Bhia agus Deoch na Gaeltachta agus tabharfaidh sé deis dóibh blaiseadh a fháil den chaighdeán ard atá ar fáil uathu."

Mícheál Ó hÉanaigh, Príomhfheidhmeannach Údarás na Gaeltachta
Is ar líne a bheidh an Expo Bia & Deoch Gaeltachta 2020 ar siúl de bharr srianta COVID-19 ag cruthú deis iontach don phobal i gcoitinne ceangal go díreach leis na daoine a chuireann beatha agus deoch ar fáil do bhord bricfeasta, lóin agus dinnéir na tíre.
Is ar chuntais mheáin shóisialta Údarás na Gaeltachta a bheidh an Expo ar siúl, agus beidh suas le 40 comhlacht sa nGaeltacht i dtionscail an bhia agus na dí le feiceáil chun ceiliúradh a dhéanamh ar thacaíocht Údarás na Gaeltachta don earnáil sin.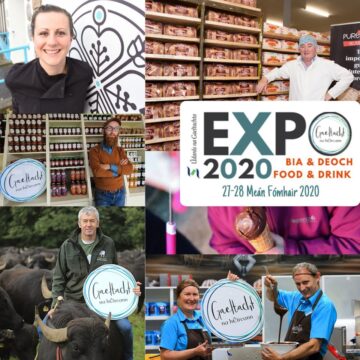 Company
Product
DÚN NA NGALL / DONEGAL
Arán Ard Teo.
Gallagher's delicious range of Gluten Free Breads and Muffins are available nationwide and they are one of the largest producers and exporters of bread in Ireland.
Irish Fish Canners
Irish Fish Canners in Donegal produce a range for John West using the best kippers herring available in the North Atlantic, IFC also produces their own range of smoked/pepper smoked/steamed mackerel fillets available in Supervalu stores
Kombucha Éireannach Teoranta
Kombucha Éireannach Teoranta in Doirí Beaga produces the refreshing SynerChi Kombucha which is certified organic, naturally free from dairy, gluten and soy, and is only 59 kCals per bottle.
Bácús Uí Bhaoill Teo
Bácús Uí Bhaoill in Baile na Finne produces quality baked confectionery and with 60 different products, most treats are delicately handmade and decorated.
Cois Farraige Bakery
Freshly baked and using lovingly prepared ingredients, Cois Farraige Bakery offers distinctive, even quirky treats, gourmet sandwiches and salads, and authentic, artisan baked goods. Available to buy from the bakery or online.
Zero Bacon
Zero Bacon provides a range of meats without nitrates, added water or rind. Their meats are cured for maximum flavour and include
Zero Bacon Brine Cure, Zero Bacon Dry Cure, Zero Bacon Burgers.
Irish Premium Oysters
Irish Premium Oysters are grown in the unique and unspoilt Leitir Mhic an Bhaird that gives their oysters their unique taste, a combination of saltwater sea mixing with brackish freshwater rich in minerals.
Drioglann Shliabh Liag
Sliabh Liag Distillers is the first distilling company in the county for over 175 years, and from their new home in Ard an Rátha they supply super-premium spirits brands, including Silkie & Dark Silkie Irish Whiskey, An Dúlamán Gin and Assaranca Vodka.
Bellaville Farm
Isabella Rowatt has built up a farm business from scratch on a 34ac holding in the hills of Donegal. At Bellaville Farm, all Bella's goats are hand-reared on her free-range farm. Bella went down a unique road by making burgers with goat meat and works hand in hand with local family butchers every step of the way to ensure they are of the best quality.
She sells four products, the goat burger, the goat and pork link sausage, the pork sausage lamb burgers.
Meadowsweet Herb Garden & Lodge
Meadowsweet Herb Garden & Lodge is a family run business in Baile na Finne, Co. Donegal. Their passion is to grow, harvest and blend herbal teas that their customers will enjoy drinking. Right now they are producing Wild Nettle/Chocolate Mint tea.
Organic Salmon Company
The Organic Salmon Company brand represents the organic salmon farming business of Marine Harvest Ireland which is part of the larger Marine Harvest ASA group.  They employ over 270 people here in Ireland and utilise over 800 Irish suppliers across all our locations to a value of over €15 million to the local economy.

Lárionad Acmhainní Nádúrtha CTR
Lárionad Acmhainní Nádúrtha CTR is a registered charity and social enterprise dedicated to supporting employment in the community.  Not only does it continue to provide local, naturally grown produce throughout north west Donegal it has expanded its training to include ecology, sustainability, circular economy, and food sovereignty.
Quality Sea Veg
Quality Sea Veg harvests the best sea vegetables from the pristine Atlantic waters off the Donegal coast to meet the increasing demands for sea vegetables in Ireland and Europe.
Baoilleach Distillery
Baoilleach Distillery is Donegal's first grain to glass distillery in over a century. The distillery is situated in an old cottage on a hillside overlooking Mulroy Bay outside the village of Carraig Airt, Co. Donegal.
Kennedy Bacon
Kennedy Bacon is a small family run company producing dry cured bacon, roasts and gammons. Their aim is to produce high-quality lower price bacon for people to enjoy.
CIARRAÍ / KERRY
Dingle Distillery
No strangers to national and international awards the Dingle Whiskey Distillery came into being in the cold winter of 2012.

To achieve the flavours they want to achieve in the whiskey, three distinctive, hand-crafted copper pot stills are used to create what they believe is the ultimate Irish whiskey. Dingle Distillery use a small, swan neck pot still to achieve our desired effect on our award-winning Gin and Vodka. Dingle Gin (awarded best gin in the world!!), Dingle Vodka, Dingle Whiskey – various types

Skellig Chocolates
Premium delicious handmade chocolates from Skellig Chocolates on the Ring of Kerry along the Wild Atlantic Way.

Irelands only open plan chocolate factory. Discover chocolate with lime and black pepper, Irish honey and more. Delicious handmade chocolate truffles, with flavours such as Hazelnut Praline, Vanilla Ganache, Whiskey Creme, Strawberry & Champagne & Citrus

Murphy's Ice Cream
Attention is paid in ensuring Murphy's Ice Cream is made of the best of everything and handcrafted using traditional methods. Fresh cream, free-range eggs, and pure organic cane sugar are mixed together and flavoured using natural ingredients.
Micilín Muc
Micilín Muc was set up as an Artisan Food producer in Ceardlann na Coille, Daingean Uí Chúis in 2015.  All products are hand made by the owner Seamus Fitzgerald, who has over 30 years butchering experience in Ireland and the UK. Since opening in 2015 his business has gone from strength to strength with his products winning Gold, Silver & Bronze in the Blas na hÉireann Irish food awards. Micilín Muc produces a wide variety of sausages, white pudding, whiskey black pudding from Mexican flavour to Red Wine, Parsley & Garlic and even Gluten Free options.
Dingle Sushi
Marcin and Magdalena Kopec who own Dingle Sushi, originally from Poland, create hand-made colourful, delicious sushi using Kerry fish and seafood in the Daingean Uí Chúis Gaeltacht with the support of Údarás na Gaeltachta.
Dick Mack's Brew House Limited
In 2015 three friends Aussie, Seamus and Dick Mack's grandson Finn discuss Dick Mack's history of bottling its own beer and a dream was born. Two years later, after months and months of research, planning and work, Dick Mack's Brewhouse was born.
Bean In Dingle Roastery
Most Westerly Coffee roaster in Ireland. We roast speciality graded coffee here in Daingean Uí Chúis. Set in the heart of Daingean Uí Chúis town is Bean in Dingle, the locale's first and only coffee roasters-cum-café. Situated on a side street, neighbour to the towns favourite pubs and bric-a-brac stores, this café has become the leading speciality coffee joint, drawing crowds from near and far in search of a solid caffeine fix.
Bácús Bhréanainn
Bácús Bhréanainn is an independent craft bakery in Daingean Uí Chúis in County Kerry where Orla Gowen is the head baker and owner. They make a tasty range of bread and confectionary which they deliver to shops, restaurants and cafés in Daingean Uí Chúis, Tralee and Killarney.
Dingle Cookery School
Dingle Cookery School was set up in 2014 by Mark Murphy and Muireann Nic Giolla Ruaidh. The school offers a vast variety of activities from Sunday Brunch to Fermentation, from Sensational Seafood to Sourdough Bread Making and many other unique culinary experiences.
McGill's Brewery
Joe McGill, a part time News Journalist and News reader with Radio Kerry, founded McGill's Brewery. McGill's Brewery is the first microbrewery on the Uíbh Ráthach Peninsula. McGill's beers are produced to the highest standard of quality, each beer is unique to the area of South Kerry.
CORCAIGH / CORK
Folláin Teo.
Baile Bhuirne based Folláin prides itself on using Irish ingredients wherever possible. They work closely with Irish producers to ensure that wherever possible their award winning jars are oozing with 100% Irish fruit. Folláin was born using a 100 year old grapefruit marmalade recipe that had been passed down through family generations. 30 years and more than 30 jams later, Folláin are still piping out award winning preserves, chutneys, relishes and jellies in the family factory in Baile Bhuirne, Co Cork.
Macroom Buffalo Cheese Products
The infamous Macroom Buffalo Cheese has Ireland's first and only herd of milking water Buffalo. The Farm is owned by Buffalo farmer Johnny and his wife Geraldine where they produce a variety of cheeses including Macroom Buffalo Mozzarella, Macroom Buffalo Greek style salad cheese and Macroom Buffalo Haloumi. Available in supermarkets countrywide and famously highlighted in Aldi advertising.
Putóg Teo.
The De Roiste and Allen families of Baile Bhuirne make their product in the traditional way and have made a meteoric rise in the last few years winning numerous awards and now being stocked in Aldi, Supervalu, Centra and Dunnes Stores. De Róiste Artisan Meats range now includes Black Pudding, White Pudding, Rasher and Sausages – which are equally popular.
9 White Deer Brewery
9 White Deer Beer is the creator of the highest quality Irish beers, all made with local Irish ingredients and is 100% gluten free. Each beer is brewed, bottled & kegged in Baile Bhuirne, Co. Cork.
Their range of gluten free beers are Kölsch, Pale Ale, IPA, Red Ale, and Stout, the first of its kind in Ireland.
Drioglann Inis Chléire Teoranta
Cape Clear is a Gaeltacht island eight miles off the southwest coast of County Cork. The distillery has produced an award-winning gin which has participated at the most prestigious and competitive events in the world. The 3 SQ. MILES gin reflects the island's character and was developed by islanders and consultants from the mainland. A unique drink from a unique island.

3 sq Miles gin is a labour of love, as it took many tries to perfect the recipe. The result is nothing short of spectacular. The gin's juniper berries blend harmoniously with island-harvested honeysuckle, fuchsia, and kelp.

PORT LÁIRGE / WATERFORD
Waterford Irish Oysters
Grown in the pristine waters of our sheltered shallow tidal bay Waterford Irish Oysters grow in the flood of wild Atlantic waters that fill our bay twice a day, every day. Nothing is added, nothing is taken away. Our oysters feed by filtering sea water, growing fat and plump on natural phytoplankton from deep Atlantic waters. Lovingly grown and nurtured over 3 or 4 years Waterford Oysters are salty, sweet and full of flavour – an epicurean delight!
Harty's Oysters
Sustainable oyster farming is a core family belief of Harty's Oysters and a natural progression on their voyage to create the perfect Irish 'speciale' oyster.
MAIGH EO / MAYO
Drioglann Loch Measc
Loch Measc Gin is a London Dry Style Irish Gin, infused with the juniper berries that grow around the Lough Mask Distillery in Co. Mayo.
Main products are Loch Measc Single Malt Whiskey, Loch Measc Gin, and Loch Measc Vodka.
Irish American Whiskey Supplies.
Founded by John McKay in 2015 the IrishAmerican Trading Company takes the very best of Irish heritage and combines this with American ambition to deliver high quality products that reflect our consumers aspirations in life.
One of the only Irish owned and family run Irish whiskeys on the market, with a mission to build a lifestyle brand – IrishAmerican Classic Blend & IrishAmerican 10 Year Old
Achill Island Seasalt
Achill Island Sea Salt is a family business founded in 2013. In the time-honoured style, we began producing sea salt in our family kitchen. Growing demand however, saw us move to a new facility on the Island in September 2016. They create a great tasting, pure and natural Irish Sea salt using sustainable production methods and to provide a viable industry on Achill Island.
An award winning pure and natural Irish Sea Salt, hand harvested from the wild Atlantic waters of Keel Bay, Achill Island on the west coast of Ireland.
Fíor Uisce
Fior Uisce provides 1000 year rock filtered Artesian Water to Restaurant, Hotels and Health food shops throughout Ireland and around the world. To find out more about our water take the time to explore the website or if you have specific queries please use the contact form.
Proudly bottled at source, this multi award winning nitrate free spring water is recognized by many of Irelands premier brands as the premium water sourced in Ireland.
Mariko Green Tea
Mariko Green Tea
Golden, delicate, lightly effervescent and thoroughly refreshing, Mariko Sparkling Green Tea is the perfect accompaniment to any good meal.
Mariko Sparkling Green Tea is Ireland's first carbonated 100% natural brewed green tea. It contains no sugar, no fat and no calories. It contains a proven high level of green tea anti-oxidant (EGCG) Mariko is now available in SuperValu stores
GALWAY / GAILLIMH
Bia Mara Uí Fhlatharta Teo
One of the best chowders you will taste made with fresh produce in the heart of the Gaeltacht in Cill Chiaráin by the Ó Flatharta family.
Irish Seaspray
Irish Seaspray was founded in Ceantar na nOileán, Conamara in 1986 with Údarás na Gaeltachta's assistance.  It is now the largest Irish exporter of Irish origin organic smoked salmon.
White Gables
In 2009 Enjoy from White Gables opened and features bakery & food to go products from the White Gables kitchen along with products from smaller Irish Artisan producers. During the lockdown period of 2020 the cocooning hamper was introduced and was extremely successful.
Connemara Organic Seaweed Company
Founded in 2012 Connemara Organic Seaweed Company's mission is to provide hand harvested, sustainable, kelp and seaweed products for human consumption through health supplements and edible products.
Connemara Beer
Connemara Brewing Company, established in 2018, focuses on making a small number of consistently high-quality beers. Every step of the process – from product design and development, brewing production, canning and packaging – is done in-house in An Cheathrú Rua.
Calendar Coffee
Calendar Coffee, a seasonal coffee roastery located in Bearna, came to fruition in November 2017, when Zarah and Dan decided to relocate to Zarah's hometown of Galway to make their dream of producing high quality coffee a reality. Following the harvest calendar, the coffees and origins they work with are always changing, depending on which countries are harvesting and the coffees that taste best.
Bláth na Mara
Established in 2002, Bláth na Mara is a family business based on the Aran Islands in Galway Bay. Jenny and David carry on the tradition of seaweed harvesting from Jenny's father Máirtín and his grandmother before him. They create innovative new products to revive this traditional Irish food. The shores of Aran is a sea garden boasting a myriad of tastes and textures.
Aran Goat's Cheese
Presently Aran Goat's Cheese produces a soft cheese with or without Dillisk, a Gouda which also comes infused with sea lettuce, or Dillisk, a medium hard cheese that looks like Brie and a Summer Cheese not unlike Feta.
Mungo Murphy's Seafood Co
Connemara Abalone is an aquaculture company in the west of Ireland that is 100% dedicated to the cultivation of abalone.  Abalone has a delicate sweet nutty flavour; any seasoning should be used very lightly as to not overpower the flavour. Abalone can be eaten raw sliced thin, cooked very quickly on a skillet on high to medium high heat or cooked for an hour in a liquid
All About Kombucha
All about Kombucha is a kombucha company based in Galway. Co – Founded by Keith Loftus and Emmett Kerrigan. The vision of the business is to deliver a healthy fermented tea product to health-conscious people whilst creating a culturally rich work environment and giving back to our community where possible.
Kombucha is a fresh fermented sparkling tea. It's Brewed with wholesome organic ingredients to provide a healthy, guilt free – tasty treat.
Organic Raspberry, Organic Ginger & Lemon
An Builín Blasta
Specializing in wholesome, tasty comfort food that fits almost any dietary restrictions, An Builín Blasta are dedicated to quality from start to finish; our breads, cakes & pastries are made in-house, we have a selection of homemade retail products available to purchase in store or online and we cook all your food fresh, to order.

Winners of Blas na hÉireann 2020 Rogha na Gaeltachta award for their Smoked Onion Mayonnaise.