Gaeltacht Cheese Products on top of the world
Gaeltacht companies scoop 10 world and national cheese awards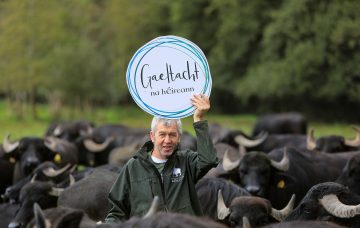 Several Gaeltacht cheese products have been recognised not only as some of the best in Ireland but the best in the World thanks to 10 world and national cheese awards that Údarás na Gaeltachta client companies have won recently.
The awards won by Macroom Buffalo Cheese Products and Coolea Cheese in the Múscraí Gaeltacht as well as Aran Goats Cheese on Inis Mór in County Galway highlight the exceptional products being created in Gaeltacht na hÉireann and Údarás na Gaeltachta would like to congratulate the companies on their commitment to achieving excellence which has been recognised continually on the global stage.
It is no small feat for Macroom Buffalo Cheese Products to have repeated their global success having won 4 awards at the World Cheese Awards recently as well as two national accolades at the Cáis Irish Cheese Awards. Its not for the first time for Johnny Lynch's buffalo herd to be on top of the World as they won World Cheese Awards previously in 2016, 2017 and 2018.
Johnny and his wife Geraldine, have a herd of buffalos from Italy on their farm in Cill na Martra, Co. Cork since 2009 and the cheese company has gone from strength to strength with the support of Údarás na Gaeltachta ever since.
Their fantastic products the Macroom Buffalo Greek Style Cheese and Macroom Buffalo Mozarella both won bronze at the 2021 World Cheese Awards and silver for their Macroom Buffaloumi and Macroom Buffalo Ricotta products.  At the 2021 Cáis Irish Cheese Awards their Macroom Buffalo Mozzarella won a silver award for soft cheese and in the new cheese category their Macroom Buffalo Buffaloumi took the bronze award.
Two national cheese awards whisked their way to Inis Mór on the Aran Islands where Aran Islands Goats Cheese won two awards at the Cáis Irish Cheese Awards. Gabriel Ó Fatharta is the owner of the company which makes various goats cheese products on Inis Mór, Árainn.  Their Aran Island Soft Goats Pearls won the bronze in the soft cheeses category and their Aran Island Dillisk Goats Pearls won the bronze in the flavoured soft cheese category.
Coolea Farmhouse Cheese also won big at the Cáis Irish Cheese Awards.  The company which is run by the Willems family in Cúil Aodha in the Múscraí Gaeltacht won two silver awards, one for their flavoured hard cheese Coolea Cumin and another silver for their mature cheese Mature Coolea.
In Daingean Uí Chúis cheese from Dingle Farmhouse Cheese won a bronze award tor their soft cheese at the Cáis Irish Cheese Awards, a wonderful achievement for its owner Tommy Bruic and his company.
Congratulating the winners, Údarás na Gaeltachta's CEO Mícheál Ó hÉanaigh said:
"Even in evidence of the effect of the pandemic Gaeltacht food and drinks products of the highest quality continue to be created by our Clientcompanies and it is a source of significant pride for Údarás that they are achieveing the appropriate recognition continually. We are delighted to support innovative food companies such as these and we congratulate them on the achievements. It is clear for the successes of the last few years that the finest quality cheese is being produced by Údarás na Gaeltachta clientcompanies in Gaeltacht areas. The Gaeltacht flag is flying very high in international markets due to the excellence of these Gaeltacht companies. We wish them continued success."
World Cheese Awards 2021
| | | |
| --- | --- | --- |
| Macroom Buffalo Cheese Products | Macroom Buffalo Greek Style Cheese | Bronze |
| | Macroom Buffalo Mozarella | Bronze |
| | Macroom Buffaloumi | Silver |
| | Macroom Buffalo Ricotta | Silver |
Cáis – Irish Cheese Awards 2021
| | | |
| --- | --- | --- |
| Fresh/ Soft Cheese: Buffalo, Cow, Sheep, Mixed | Macroom Buffalo Mozzarella – Macroom Buffalo Cheese Products | Silver |
|   | Caisog – Dingle Farmhouse Cheese | Bronze |
| Fresh/ Soft Cheese: Goat Milk | Aran Island Soft Goats Pearls – Aran Islands Goats Cheese | Bronze |
| Soft Cheese: Flavour Added | Aran Island Dillisk Goats Pearls – Aran Islands Goats Cheese | Bronze |
| Hard Cheese: Flavour Added | Coolea Cumin – Coolea Farmhouse Cheese | Silver |
| Mature Hard Cheese over 6 mths: All Milk types | Mature Coolea  – Coolea Farmhouse Cheese | Silver: |
| New Cheese: All Types | Macroom Buffalo Buffaloumi – Macroom Buffalo Cheese Products | Bronze |