Gaeltacht areas to be centre stage in the Oval Office for St Patrick's Day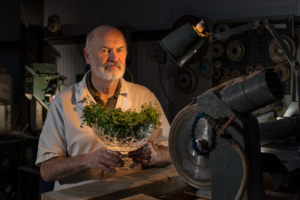 Shamrock from Baile an Sceilg (Ballinskelligs) in County Kerry and Crystal from An Rinn (Ring) in Waterford will be presented by Taoiseach Enda Kenny to President Donald J. Trump.
Gaeltacht products from two Údarás na Gaeltachta client companies will take centre stage in the most powerful office in the world in the White House, Washington this Thursday (16 March 2017) when Taoiseach Enda Kenny will make the traditional presentation of a crystal bowl of shamrock to the President of the United States of America, Donald J. Trump.
The shamrock being presented by An Taoiseach for St Patricks Day was grown in Baile na Sceilg in west Kerry thanks to a client company of Údarás na Gaeltachta – I.P.I. Teo. 'Living Shamrock' or I.P.I. Teo. have been supplying the shamrock for the White House trip since former president Bill Clintons time in office in the 1990's. Although the sales are carried out from their offices in Athlone in Westmeath the 'green gold' is grown in Uíbh Ráthach although the fertile soil of the Kingdom has little to do with its success. The shamrock are grown in a Hydro Gel rather than soil which means that they have a longer shelf life. Due to this process a batch of the shamrocks, grown in the glasshouses in Baile na Sceilg will be presented to the Irish Army who are on a United Nations mission abroad and to all Irish Embassies worldwide also.
Continuing the tradition that started in 1952, the shamrock will be presented in a crystal bowl which was designed and made in the Rinn Gaeltacht in County Waterford. Criostal na Rinne, a client company of Údarás na Gaeltachta based in the Waterford Gaeltacht since 1987, was chosen by the Taoiseach's office to make this special handmade piece and it was Eamonn Terry, owner of Criostal na Rinne, who designed and cut the bowl by hand. The design of the bowl is inspired by the artwork from the Book of Kells, one of Ireland's greatest cultural treasures.
Eamonn learnt his trade in Waterford Crystal and was a master craftsman glass cutter by the time he founded his own company in 1987. Éamonn Terry is no stranger to making one-off commissions of this kind, having made crystal pieces that have been presented to the President of Ireland, Michael D. Higgins, former President Mary McAleese, and former Mayor of Chicago, Richard Daly.
Steve Ó Cúláin, CEO of Údarás na Gaeltachta said, "Údarás na Gaeltachta have been supporting and promoting Gaeltacht products, companies and communities for many years and it is fantastic for two of our clients to be receiving national and international acclaim for their products. I hope that it will be most beneficial for them and it is evidence of the progress that skilled companies can make in rural Gaeltacht areas with the cooperation and support of Údarás na Gaeltachta."