From the bright lights of Dublin to the beautiful landscape of Béal an Mhuirthead
Parisian Cynthia Baloula's personal account of how she seized the opportunity to manage her global businesses from a gteic innovation hub in the Gaeltacht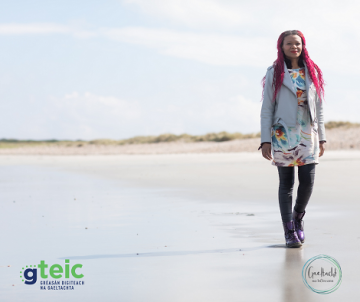 My name is Cynthia Baloula and I own 2 businesses: CB Media and the Video Marketing Academy.
CB Media video production helps businesses generate more sales through video and digital marketing strategies. This business is based in Dublin and I now manage it from the gteic in Béal an Mhuirthead (Belmullet), Co. Mayo.
When, COVID-19 hit along with the lockdowns, all our bookings got canceled: we lost 90% of our forecasted revenue overnight.
I felt lost, distressed, powerless. Like many business owners out there, I had to either pivot or die.
I saw a market opportunity and created the Video Marketing Academy during the first lock-down. It is an online coaching business that shows small business owners who want to save money by doing their own video marketing, how to produce professional videos using their smartphones and how to promote those videos online to attract their ideal clients. To my surprise and delight, this new business took off.
The first lock-down in the city was difficult. It was hard not to be able to take my then one year old daughter, Alanna, to the park and have her stuck in the house. When the country opened again, Dermot, my other half, suggested moving out of the city to a place where we could have a better quality of life for our family.
Dermot often talked about his connection with the West and the Irish language. His grandparents came from the West. Dermot learned Irish in the Ceathrú Thaidhg Gaeltacht and loved it. So, he suggested that we move to Béal an Mhuirthead.
This move was scary for me, because I am a city girl through and through: I come from Paris and lived 20 years in Dublin.
However, looking back, this was the best move we could have made: Béal an Mhuirthead is so beautiful, the quality of life is amazing, and I can work from the gteic Digital Hub with the same ease than when I was based in Dublin.
There is great support and facilities for businesses the high-speed broadband is very good.
I have had amazing support from Údarás na Gaeltachta in terms of office space and advice. The facilities and support available from the gteic Digital Hub make it a very attractive and a viable option for people to relocate and move either to remote work or to start their own business.
The Gaeltacht is such a great place to live, work and do business!
Cynthia Baloula is the Founder and Managing Director of CB Media, one of Europe's leading video production and digital marketing agencies, and the Video Marketing Academy which she runs from gteic@Béal an Mhuirthead in the Mayo Gaeltacht. www.cbmedia.ie
gteic@Béal an Mhuirthead is located on the Údarás na Gaeltachta Business Park in the Mayo Gaeltacht in the west of Ireland and is a state-of-the-art innovation & digital hub where the unique Gaeltacht culture drives creativity and innovation. gteic@Béal an Mhuirthead is part of the gteic Gréasán Digiteach na Gaeltachta (Gaeltacht Digital Network) and a growing digital ecosystem which will see hubs in 31 Gaeltacht locations countrywide when complete.