First Ever Údarás na Gaeltachta Board meeting held today on Toraigh
Ráiteas ó Chruinniú Boird Údarás na Gaeltachta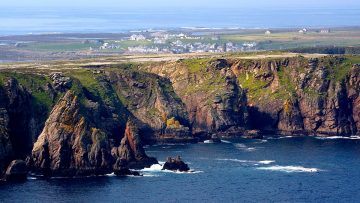 First Ever Údarás na Gaeltachta Board meeting held today on Toraigh (Tory Island)
Today for the first time, the board of Údarás na Gaeltachta held a meeting on Toraigh. The board chairperson, Anna Ní Ghallachair said it gave the board great pleasure to convene a meeting on the island. She said the board was strongly of the view that it was important to visit the offshore islands and thereby assess developments there. She said
"Toraigh is a jewel and one of the strongest Irish-speaking areas in the country. The island community continues an ancient tradition of song and storytelling and Údarás na Gaeltachta has a responsibility to facilitate them, so that they can make a living on the island and maintain and strengthen their culture, not only for themselves but for all of Ireland."
Support approved for 100 new jobs in Gaeltacht companies
Today, the board of Údarás na Gaeltachta approved projects which will lead to the creation of 100 fulltime jobs and entail significant investment in the Gaeltacht when they come to fruition. The projects being supported are in Gaeltacht companies in counties Donegal, Galway and Kerry.
5-year contract of Údarás na Gaeltachta Chief Executive comes to an end
Today's meeting was the last board meeting of the current chief executive, Mícheál Ó hÉanaigh, whose contractual term comes to an end on the 31st August.
The board chairperson said that the chief executive had done great work during the previous 5 years and that the results of this hard work would be evident across the Gaeltacht for years to come. He had broadened the scope and aims of Údarás na Gaeltachta, which had resulted in a new international dimension to the work of the organisation: an emphasis on international best practice; the link with the Gaeltacht diaspora; the gteic network, a network of remote-working digital hubs on a par with any such facilities worldwide, among many other achievements. Roinn na Gaeltachta had approved Language Planning Schemes for all language planning areas and 22 of those plans were being implemented.
Employment figures were strong and Údarás na Gaeltachta was on course to fulfil its targets ahead of time. The board thanked Mícheál for all he had done on behalf of the Gaeltacht community and wished him all the best in the future.