Fáilte roimh maoiniú de €2.7m ceadaithe do Choláiste Íosagáin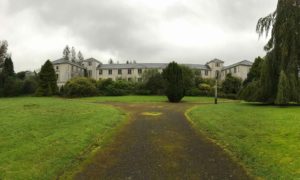 Funding of €2.7M for Regional Development Hub at Coláiste Íosagáin, Baile Bhuirne welcomed by Údarás na Gaeltachta
Údarás na Gaeltachta has welcomed the announcement by Minister for Business, Enterprise and Innovation, Heather Humphreys, TD and Minister for Agriculture, Food and the Marine, Michael Creed, TD, today (8/1/2019) that funding of €2.7m has been approved for Seirbhísí Forbartha Gnó (DAC), a designated activity company incorporated by Údarás na Gaeltachta to develop, implement and manage a Regional Development Hub (RDH) in support of enterprise creation on the well know landmark site of the former Coláiste Íosagáin in Baile Bhuirne in the Múscraí Gaeltacht.
The Regional Development Hub will create additional employment opportunities and diversify and strengthen the enterprise base locally.  The project is undertaken as a collaborative venture with regional institutional stakeholders who act as project partners with Údarás na Gaeltachta such as Cork County Council, UCC, CIT, Cork ETB, Regional Skills South West, South West Gnó Skillnet  and Enterprise Ireland.
"I am delighted to confirm €2.7m of Government funding which will breathe new life into this well-known landmark which has been idle with over thirty years."

Minister for Agriculture, Food and the Marine, Michael Creed
The funding has been granted under the Regional Enterprise Development Fund delivered through Enterprise Ireland and Údarás na Gaeltachta will also provide funding of €1m for the project.
Údarás na Gaeltachta will develop 1,835 sq. mtrs. of flexible, fibre-connected enterprise space as part of the gteic Gaeltacht digital hub network and which will be co-located with Údarás na Gaeltachta's Regional Office. Specialist training and business development supports will be available from the centre which has a target of supporting the creation of 200 jobs in coming years.
The project will also support the creation of two management posts with a Business Development Manager and an Enterprise Training Manager to be recruited next year as the project progresses. Subject to planning permission being granted Údarás na Gaeltachta hope for the project to be tendered, commenced during the summer and completed by the end of 2021.
Minister for Agriculture, Food and the Marine, Michael Creed, said "I am delighted to confirm €2.7m of Government funding which will breathe new life into this well-known landmark which has been idle with over thirty years. I'm pleased to finally see a project which will deliver a sustainable future for Coláiste Íosagáin. I wish to congratulate all the state agencies working on this project in particular Údarás na Gaeltachta and Enterprise Ireland."
Government Chief Whip and Minister of State for Gaeilge, Gaeltacht and the Islands, Seán Kyne said "I am delighted to welcome this funding for Údarás na Gaeltachta and the Múscraí Gaeltacht region which will further support enterprise development and the gteic digital hub network being developed by an tÚdarás – which will have a lasting positive effect on Gaeltacht areas and the communities in those areas."
Welcoming the announcement, Mícheál Ó hÉanaigh, Chief Executive Officer of Údarás na Gaeltachta said, "This is significant news not only for business in the Múscraí Gaeltacht but the surrounding region also. We heartily welcome the funding of €2.7m to develop a regional development hub and a flagship gteic digital hub on this historic site. This project will significantly add to the development opportunities for innovative enterprises in the area and will also provide opportunities for Start Ups, Micro Enterprises and HPSUs.. We are delighted to be working in collaboration with Cork County Council, Enterprise Ireland, UCC, CIT, and other partners on this project including our own clientcompanies in the Múscraí Gaeltacht who supported the project in its development. "
Commenting on the announcement, Martin Corkery, Regional Director, South and South East, Enterprise Ireland said "The Regional Enterprise Development Fund (REDF) is a key mechanism to support balanced regional development and an effective enterprise ecosystem. It enhances collaboration between companies and key stakeholders in the region. This investment of €2.7m approved by Enterprise Ireland under REDF for Seirbhísí Forbartha Gnó, in conjunction with the planned upgrade to the N22, will drive further enterprise development and job creation in the area.  This is an exciting new future for this historic building and credit is due to the local team in Údarás na Gaeltachta supported by Cork County Council for their vision and commitment to the project."