Empowering Gaeltacht food producers
Údarás na Gaeltachta to assess future requirements of the food sector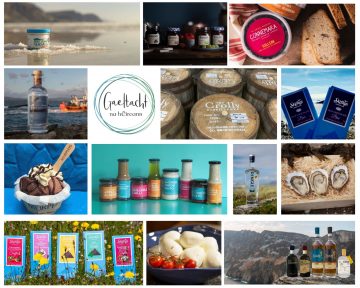 Údarás na Gaeltachta is undertaking a review of the food sector in the Gaeltacht and looking to prepare a development plan based on the future requirements of the sector. To that end, Údarás has launched an expression of interest process for companies or people who are developing food products or businesses.
It is hoped the expressions of interest will assist the organisation in preparing an appropriate development plan, under the auspices of the Gaeltacht na hÉireann brand, that will be based on sectoral demand for food preparation, manufacturing, testing, packaging and other facilities which are necessary to enable research and development in the sector.
Top quality Gaeltacht food and drink products are internationally recognised and have garnered both national and international awards such as the Blas na hÉireann awards, the World Cheese Awards and the World Spirit Awards. Gaeltacht products are highly identifiable and include the likes of Folláin jams and Macroom Buffalo Cheese in Múscraí, Dingle Gin from Kerry, Harty Oysters and Meitheal Trá na Rinne oysters from Waterford, Achill Island Sea Salt from Mayo, Aran Island's Goat's Cheese, Builín Blasta sauces or salmon from Cill Chiaráin Éisc in Conamara and whiskey from Sliabh Liag and Croithlí in Donegal.
These products are sold both nationally and internationally and are an indication of the high-quality products being made by food companies in the Gaeltacht.
Údarás na Gaeltachta believes it can build on this and support individuals and small and large companies to undertake additional developments in the industry.  One of the biggest challenges for food production businesses is finding premises suitable for the processing of fish and fitting these out to meet legislative requirements. Údarás na Gaeltachta is assessing the potential of developing food hubs in Gaeltacht regions where the demand exists in order to provide a supportive environment in which new and existing business can commercialise their business ideas.
Speaking in relation to the expression of interest Mícheál Ó hÉanaigh CEO of Údarás na Gaeltachta said:
"Food and drink companies in the Gaeltachta have, for many years, proven the quality of their products.  Údarás na Gaeltachta wants to seize the opportunity and support people with a food business idea and others who may have difficulties in accessing facilities and who wish to progress their businesses.  An initiative such as a food hub will benefit businesses and the areas in which they are located, boosting the economy and social life in that area."
It is hoped these food hubs will create employment, increase the number of SMEs, attract more investment into the industry and the region and increase demand for goods and services in the area also.
The Expression of Interest form is available here and the submission date is April 1st 2022.