EMPOWER
Údarás na Gaeltachta and EMPOWER partner to launch pilot programme, CUMASÚ focusing on female entrepreneurs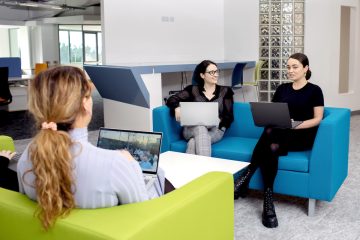 A new programme for female entrepreneurs in the Gaeltacht areas of Mayo and Galway is being is being launched by Údarás na Gaeltachta, in partnership with the Empower Programme, a free initiative run by the Atlantic Technological University (ATU) Innovation Hubs that aims to promote and fast-track female entrepreneurship.
EMPOWER was established back in 2017 in response to demand for female start-ups in the region and have since been inundated with requests from women seeking to undertake this programme. In the last EMPOWER II Programme just recently completed over 450 applications were received (320 for Start and 130 for Growth).  A total of 65 females participated on EMPOWER II, from these 65 new employees were hired, over €10m was raised in finance and 148 new products launched.
Maria Staunton EMPOWER Coordinator stated "The EMPOWER Programme has been a tremendous success to-date and of huge benefit to the regional locally. We are looking forward to rolling CUMASÚ out now to the Gaeltacht areas of Mayo and Galway. This is a pilot scheme, and we are hoping to see great results also In EMPOWER Start II, 83% of the female founders went on to start new businesses."
This free programme is delivered part-time over 12 weeks by start-up experts. This allows participants to balance their family commitments while at the same time planning and developing their new business. The opportunity is to test start up idea(s) for customer acceptance. 'In the last few years, we have had such a diverse range of businesses take part in each programme and it has been just fantastic to be involved and to watch these women grow in confidence and reach their own professional milestones. I am looking forward to developing this relationship with Údarás na Gaeltachta into the future and helping this programme develop.
Seán Ó Coisdealbha, Údarás na Gaeltachta western regional manager said "This is a great opportunity for the Gaeltacht to benefit from the good practices developed by the ATU to develop and support female entrepreneurs – we look forward to CUMASÚ making full use of the Gteic network to ensure that this knowledge and expertise can be delivered locally to women participants in the Gaeltacht regions of the west."
Prospective applicants can apply for a limited amount of spaces until 16th December at 5pm.
Application Form at https://www.empowerher.ie/