ÉireComposites to create 40 new jobs in Galway Gaeltacht
Conamara company secures major contract with aerostructures manufacturer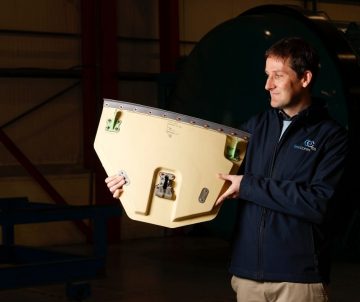 ÉireComposites, an Údarás na Gaeltachta client company located in the Conamara Gaeltacht, has secured a multi-million Euro contract with Spirit AeroSystems, the world's largest first-tier aerostructures manufacturer, to provide structural components for business jets and commercial airliners.  The new contract will bolster 60 existing positions in ÉireComposites and the company will look to create 40 new jobs over the next 3 years at their facility in Indreabhán in Co. Galway.
The scope of the contract includes manufacturing and testing services for a number of aircraft and will ensure that Gaeltacht innovation will have a massive role in the future of air travel.
ÉireComposites is no strangers to innovative strides having recently secured a contract to design and produce stray light baffles which will form part of the European Space Agency's ALTIUS satellite.  The company which operates an accredited composites manufacturing and testing facility in the Cois Fharraige area currently employs 60 people.  ÉireComposites is an innovative design, manufacturing and testing company involved in lightweight, high performance, fibre-reinforced composite materials, with an international customer base in space, aerospace, renewable energy and industrial composites.
Welcoming the announcement the Minister for Tourism, Culture, Arts, Gaeltacht, Sport and Media, Catherine Martin, T.D., said:
"I would like to congratulate all at ÉireComposites on the significant developments and innovation being progressed and I welcome the announcement of 40 new jobs to be created in the three years ahead. The drive, skills and creativity of their team is evident and their longstanding partnership with Údarás na Gaeltachta shows that the highest quality of employment is available in the Gaeltacht while participating in global projects. We wish ÉireComposites and Spirit AeroSystems the best for a long and mutually beneficial partnership."
Government Chief Whip and Minister of State for Sport and the Gaeltacht, Jack Chambers, T.D., also welcomed the announcement and said:
"This is another significant announcement for the Galway Gaeltacht area which will bring further growth and high-quality employment to the area.  I am delighted to welcome the new jobs being created in the Gaeltacht but also commend the ability of ÉireComposites and other innovative Gaeltacht companies to win significant international high value contracts. It shows that the Gaeltacht can compete on a global stage if the appropriate supports, talent and infrastructure are made available."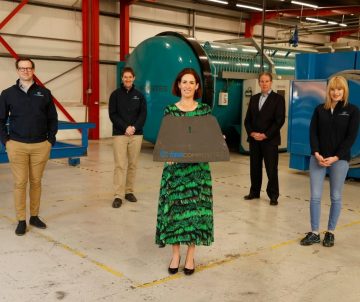 ÉireComposites CEO Tom Flanagan spoke of the investment and announcement of 40 new positions:
"Today's announcement of the continuation and expansion of the relationship between ÉireComposites and Spirit AeroSystems is hugely significant, not only as a sign of confidence of the work of Irish suppliers post-Brexit but the massive role our company will play in the future of air travel.  I am proud of the work we do here as we are unique to the area along the Wild Atlantic Way with a very loyal and skilled workforce, and without whom today's announcement and ÉireComposites' bright future would not be possible.  ÉireComposites would also like to place on record its thanks to Údarás na Gaeltachta and Enterprise Ireland as they continue to support the company and ensure it continues to work on exciting, novel new projects with industry partners across the world."
Anna Ní Ghallachair, Chairperson of the Board of Údarás na Gaeltachta stated on behalf of the Board:
"On behalf of the Baord, I welcome this announcement and congratulate ÉireComposites and its staff on their achievements to date, which have been many in recent times.   It is very encouraging for the Board of Údarás na Gaeltachta to see companies prosper and develop in Ireland's Gaeltacht areas.  ÉireComposites' progress to date is a vote of confidence in the people of this Conamara Gaeltacht.  It is also very encouraging to see two companies work together to overcome logistical and administrative challenges."
Congratulating its client company Mícheál Ó hÉanaigh, Chief Executive Officer, Údarás na Gaeltachta said:
"Údarás na Gaeltachta is extremely pleased with the news that an additional 40 jobs will be created in ÉireComposites in the Cois Fharraige Gaeltacht.  ÉireComposites is one of our many successful client companies who have shown that innovation and creativity do not always occur in urban areas, the expance of space in the Gaeltacht clearly inspires the workforce here, further driving home the fact that rural Ireland is the perfect base from which to be connected with the world while enjoying world class worklife balance.  The company has secured a significant contract which will indeed propel the company's products and highly skilled staff further.  We also welcome Spirit AeroSystems, whose involvement is a wonderful a sign of confidence in the work of Irish suppliers post-Brexit."