Digital Hub Working: Remote But Not Detached
A blog by Mícheál Ó Duibhir

Since March 2020 there have been dramatic changes in the workplace. The vast majority of the workforce in many countries have had to adapt to the new normal of remote working. This meant transitioning away from working in a central workplace provided by an employer. The initial transition to remote working was sudden and forced both employers and employees to evolve from standard practices and to adapt to a new and alien method of fulfilling their relative duties and responsibilities in order to keep businesses afloat and jobs intact. 
As COVID-19 restrictions eased slightly in the third quarter 2020, the workforce slowly divided itself into three general categories: 
The onsite worker, who had returned to the work place

 
The home worker

 
The hub worker

 
Options one and two above covered most of the workforce but there existed, and still exists, a substantial number of people who are hub workers, wanting to work from a digital hub and with no desire to work from home or to return onsite.   
Working from digital hubs in Ireland has become popular since the emergence of a significant digital hub network, akin to the gteic network, over the past five years. There are many reasons to work from a digital hub. Bad broadband or no office at home; remote working for a company in a different region or country; entrepreneurs with a thirst to network or who want to work in a vibrant environment; or, simply, those who value the social element of work and want to be around other people while working.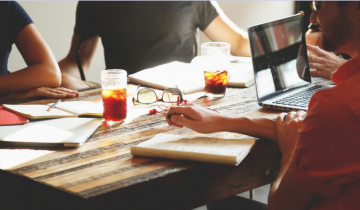 Benefits 
Even before the onset of the COVID-19 pandemic, companies were beginning to see the value of digital hubs. The ability to work remotely from hubs provided employers with an opportunity to expand their geographical reach in terms of recruitment and the search for talent. Some raised the bar even further and took the decision to establish remote satellite offices in hubs where they accessed local talent to establish teams and divisions in regions where recruitment competition was less intense than in larger urban populations.  
The benefits for individual digital hub workers are vast. It is widely accepted that there are health benefits to be gained from a reduced commute. There is a sense of community in a digital hub that is not experienced when working from home. Networking and socialising are commonplace and could be seen pre-COVID-19 from the buzz and chat within breakout rooms and canteens. Conversations at each other desks to discuss challenges – a problem shared is a problem halved.  
The Future 
More recently, the momentum gained in digital hub working has been tempered by COVID-19. Hubs have temporarily closed or adopted strict rules and guidelines on working from the hub. However, there is light at the end of the tunnel with solutions such as vaccinations and safer work environments providing a confidence to those wanting to return to the vibrancy and the community sense of working from a digital hub.  
Mícheál Ó Duibhir is a Development Officer with Údarás na Gaeltachta and the manager of the gteic@Gaoth Dobhair digital hub.