Digital First Day
Gteic network to be at centre of Digital First Day events on November 15th with Gteic @Béal a Mhuirthead chosen for flagship event in national initiative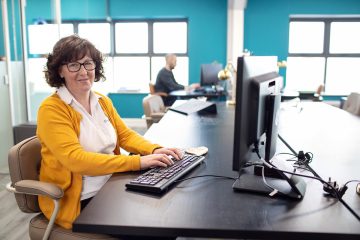 The Gteic Digital Network will be central to Ireland's first Digital First Day next week, when on the 15 November, there will be a particular focus on the benefits which the communities of rural Ireland can reap from digitisation.
Digital First Day is being organised by a number of bodies active in community development and technological innovation, including Digital Network Ireland, part of the Connected Hubs and Údarás na Gaeltachta, through the Gteic network. It will consist of a national crowdsourced series of events via panel discussion, meetup, and workshops, highlighting how communities, small businesses, and social enterprises can leverage the benefits of digitalisation.
Údarás na Gaeltachta will focus on the benefits the gteic network is delivering to Gaeltacht communities – the network of 25 digital hubs is providing high-tech facililties, a creative and innovative working environment and a network of contacts in Gaeltacht regions all over the country.
Údarás na Gaeltachta is proud that Gteic Béal a Mhuirthead, one of the most successful Gteic hubs in the country, has been chosen as one of the partners leading out this project; the digital hub in Béal a Mhuirthead has transformed the employment possibilities in the North Mayo Gaeltacht and has greatly enhanced employment prospects in a region which has struggled historically, due to high levelis of emigration and a dearth of opportunity locally.
However, the emphasis on "Digital First Day" will not be on one single Gteic; in celebrating the advantages opportunities offered by technological advances, the Gteics will be connecting with one another on November 15th and community members, businesspeople, budding entrepreneurs and workers will be able to participate in the events of the day online at their local Gteic.
Inspiring and interesting individuals – businesspeople, remote workers, and entrepreuneurs will be sharing stories about how they were supported in bringing their vision to fruition and improving their quality of life and work. The event will also serve as a social occasion and there will be an informal coffee and networking opportunity following the information session in all participating Gaeltacht Gteics.
Colm Ó Coisdealbha, Údarás na Gaeltachta acting chief executive stated
"We welcome this national project which aligns with the aims of Údarás na Gaeltachta regarding community development, supporting innovation and promoting the circular economy. Our main focus is the empowerment of Gaeltacht communities, helping them grow and develop and hence strengthening the position of our Irish language communities. Digitisation, facilitated by the Gteic network, is supporting that aim."
Digital First Day is driven by a new collaboration, Digital Ireland Network (www.digital-ireland.ie) devised to highlight the potential of digital growth and social enterprise in attracting economic and social development in rural areas and to help tackle the urban/rural divide.
Stephen Carolan, Enterprise Hubs Project Manager at Connected Hubs commented
"We believe that the hub network across the country can act as a catalyst for communities to bring about the social change at scale envisioned in 'Our Rural Future'." Eoin Costello, DigitalHQ and director of the Digital First Day initiative said " Highlighting the benefits of digital will bring the community into their local Connected Hub while digitalisation will bring the impact of the hub out into the local community! It's a win/win."
Information on the role of the Gteic network in Digital First day events is available here: https://allmylinks.com/gteic-greasan-digiteach-na-gaelt