Connemara Location for the Country's First Stop-Motion Animation Studio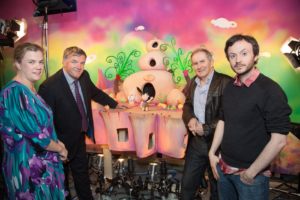 Telegael Teo, one of Europe's leading animation and television production houses, has developed a state of the art stop motion animation studio, Beochan, in Casla, Co. Galway. The studio will create 40 jobs and was established with the support of Údarás na Gaeltachta. Filming has already begun and Beochan's first venture is to animate the second series of Igam Ogam, a children's, 26 part animated series produced for broadcasters Five, S4C, TG4 and ZDF Enterprises, who distribute the series internationally.
CEO of Telegael, Paul Cummins, said "This is the first dedicated stop-motion studio in Ireland and we are delighted the development is complete and the production of our first animation series is underway. This piece of production will continue until the end of the year and we hope that this will be the first many stop-motion series and feature films to be made in this of state of the art facility".
Welcoming the announcement, Minister of State for the Department of Arts, Heritage and Gaeltachta, Dinny Mc Ginley said that this investment and the jobs created would have a significant economic impact on the area. "I commend Telegael and Údarás na Gaeltachta for the work they have undertaken to bring this development to fruition."
Igam Ogam is a coproduction between Telegael and Cardiff based Calon TV. Production has moved from Wales, where the first series was produced, to Connemara Beochan studios, where the animation and post production are underway. The director and some of the animation staff who worked on the first series are now located in Casla and are in the process of training young Irish animation artists in the production of the animation series.
Siobhán Ní Ghadhra, COO of Telegael is the person responsible for the new operation. "It is very exciting to see that what began as a pipe-dream has now become a reality" she said. "We have a fantastic team working here and I look forward to seeing the business develop and expand over the coming years"
ENDS
Further Information:
Siobhán Ní Ghadhra, COO, Telegael 091 558600
Siubhán Nic Grianna, Communications and Marketing Manager, Údarás na Gaeltachta
091 503219 / 087 2217757 / sng@udaras.ie
Aliston Stokes, PR for Calon, 07817 990771