Community-owned Seaweed Farming and energy efficiencies in the Industry
– the next instalment in the SW-Grow Seminar Series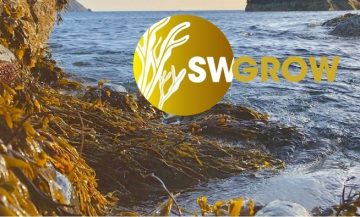 International examples of community-owned seaweed farming will form the basis of a seminar being organised by Údarás na Gaeltachta on Friday November 26th from 11.00 – 12.30 as part of the EU SW-Grow project.  The seminar will also examine energy efficiencies in the seaweed industry with international experts.
The objective of SW-Grow, which is co-financed by the European Regional Development Fund (ERDF) through the Northern Periphery & Arctic (NPA) Programme, is to increase economic opportunities in the seaweed industry by developing innovative working practices that can be widely adopted by the many SMEs involved in this project in the NPA region to develop quality seaweed products of consistent standard that are identifiable and can be clearly branded.
International experts in the seaweed industry will speak at the seminar to give the community and companies an insight into their work with seaweed and how value can be added to this natural resource in order to benefit the local community.
Morven Gibson from South West Mull and Iona Development (SWMID) in Scotland will detail  SWMID's latest initiative – 789 hectares of Tiroran Community Forest and Bendoran, a shoreside facility, that is being developed as a watersports hub and is also the site of a shoreside processing unit for its recently developed community-owned seaweed farm.
Researcher Roy Bartle of Lews Castle College will speak about his role in SW-GROW and his  research in efficient and sustainable seaweed drying methods.  He disseminates this knowledge to SMEs in the NPA region.
Sara Norris is a Programme Executive with the Sustainable Authority of Ireland (SEAI).  Sara will speak about energy efficiency for businesses and available supports.
Attendance at the seminar can be registered here: Seimineár Feamainne SW-GROW/ SW-GROW Seaweed Seminar Tickets, Fri 26 Nov 2021 at 11:00 | Eventbrite