Blue Economy Conference
Conference on the Blue Economy to be held in Údarás na Gaeltachta in partnership with Asia Matters as part of Asia Business Week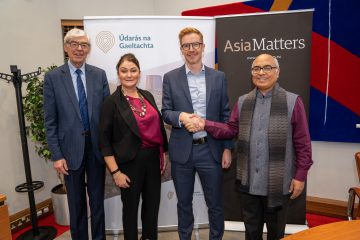 On the 29 November, a conference on the Blue Economy will be held in Údarás na Gaeltachta's head office in Na Forbacha, Co. Galway as part of Asia Business Week. This conference, focussing on Marine Innovation and Offshore Wind Energy, will examine developments in the Blue Economy in Ireland and internationally.
Among the speakers on wind energy at next week's conference will be Martin Murray, CEO of Asia Matters, Séamus Mc Cabe, senior development director with Corio Generation, Jayasurya Francis, India Director with the Global Council of Wind Energy and Dr. Edel O' Connor, Business Development Director with the IMDO, the Irish Marine Development Office.
Seán Mulvany, senior investment manager with the Irish Strategic Investment Fund, will take part in the panel discussion on marine innovation, along with Máire Ní Éinniú, Blue Economy specialist with Údarás na Gaeltachta, Caroline Bocquel, Interim Chief Executive with Bord Iascaigh Mhara agus Dr. Colin Hannon, Senior Research Fellow at ATU.
Through their participation in Asia Business Week, Údarás na Gaeltachta aims to develop and strengthen connections between Asian countries and the west of Ireland, attract Asian investors to invest in businesses in the Gaeltacht and develop new markets for Gaeltacht companies.
Martin Murray, CEO of Asia Matters siad
"The Asia marketplace is responsible for half the world's GDP, and that's where Irish businesses should be focusing their energies on. Business across Asia is relationship-based, rather than the transactional way of doing things we are used to in the West.
Any business wanting to expand in Asia, especially businesses in the west of Ireland, would benefit enormously from the invaluable knowledge and experience that our speakers will be sharing."
Colm Ó Coisdealbha, Interim CEO of Údarás na Gaeltachta said:
"This conference in Údarás na Gaeltachta is a great opportunity to examine the potential of the Blue Economy in the west of Ireland and to see that potential in an international context.  Údarás na Gaeltachta has a deep understanding of the importance of strategic connections with organisations and companies all over the world. We welcome the opportunity to be involved with Asia Matters for Asia Business Week; speakers with a wealth of experience will share their knowledge and insights, and participants will certainly benefit from their attendance at the events throughout the week."
Members of the media who are unable to attend in person can attend virtually via  https://us02web.zoom.us/webinar/register/WN_0VHpHbvLQj2LcDY1aCvatQ