At the water's edge - Marine Tourism Opportunities in the Gaeltacht
Specific Focus on Marine Tourism development at Údarás na Gaeltachta Information series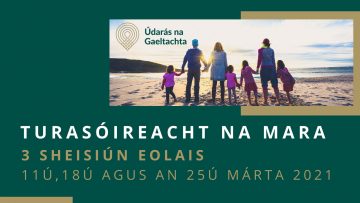 Údarás na Gaeltachta is placing a particular emphasis on the development of marine tourism in Gaeltacht areas and to that end is providing both learning and growth opportunities for the sector in the Gaeltacht. Údarás na Gaeltachta has arranged three information & networking sessions on the development of Gaeltacht marine tourism in the weeks ahead.  The sessions, to be held on the 11, 18 and 25 March 2021, are targeted at Gaeltacht marine tourism businesses or people who are interested in growing such businesses in the Gaeltacht.
Attendees will have the opportunity to learn from national and international marine tourism experts as well successful enterprises, establish links with businesses in the Gaeltacht and get an understanding of good marketing practices.
Session 1
The Boat Journey
(11.45am, 11/03/2021)                     eventbrite.ie/e/142522748377
Focus on boat trips, fishing and how to attract visitors.

Speakers will include two rival businesses from Newfoundland, Canada.  The digital aspect of boat trips and how to create an online ticketing process will also be explored.

Session 2
Blueways, Piers & Beaches
(11.45am, 18/03/2021)                      eventbrite.ie/e/142525673125
Blueways and the facilities available around the coast to enhance marine tourism.

Cliodhna Campbell and Cathal Sweeney of Donegal County Council will discuss the steps involved in installing a pontoon dock and opportunities to improve resources on our beaches.  Fáilte Ireland and the Árainn Mhór community in Donegal will describe the Blueway and what it involves.

Session 3  
Watersports – Selling the Experience
(11.45am, 25/03/2021)                      eventbrite.ie/e/142527049241 
Watersports and wonderful water activities and experiences will be discussed.

Lee Wood from Narosa Life will describe his surfing business in Donegal.  Bane Mullarkey will discuss marketing matters and how best to optimise your business online.
These webinars are intended as practical sessions that will explore best practices in the marine tourism sector, selling the marine tourism experience online as well as providing an opportunity to network with other marine tourism businesses in the Gaeltacht counties.
Businesses, entrepreneurs, community groups, and anyone with an interest in developing a marine tourism business in the Gaeltacht or improving facilities in the marine tourism are also welcome.
It is recommended to register for the sessions in advance at this link: https://www.eventbrite.ie/e/turasoireacht-mara-seisiun-1-turais-baidboat-trips-tickets-142522748377?aff=erelexpmlt